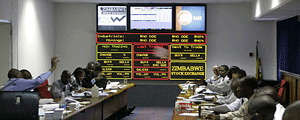 THE Zimbabwe Stock Exchange (ZSE) market capitalisation has neared the $6 billion mark, buoyed by renewed interest by foreign investors.
Business Reporter
Statistics released by ZSE shows that as of last Friday, the market capitalisation stood at $5,96 billion while daily turnover increased to $1 million from an average of $750 000 recorded in the run up to last Wednesday elections.
Analysts attribute the performance of the local bourse to the peaceful conduct of the elections. MDC-T leader Morgan Tsvangirai, who lost the presidency and the control of Parliament, has, however, discredited the polls, describing them as null and void.
"The elections were calm and foreign investors are buying as of today (Friday) turnover stood at $1 million," said one analyst.
In the first quarter of this year, trading was subdued, but it peaked in May and June due to the renewed interest by foreign investors. Market watchers say investors are keen on consumer-facing companies with strong shareholder support.
As a result of the performance, the ZSE became the fourth most performing bourse in Africa after Nigeria, JSE and Nairobi Stock Exchange. The industrial index, however, lost 1,97 points to close at 231,21 points on Friday compared to Thursday 233,18 points last week.
"Barclays eased a cent to trade at 5,5 cents and Aico Africa shed close at 7 cents while Pearl closed at 2,97 cents and Dawn 0,90 cents," the ZSE said in a trading update.
BAT, Old Mutual, Art and TA holdings traded at 1 475cents, 242 cents, 60 cents and 7,70cent on Friday 2 August.
The mining index retreated 0,44 points after Bindura dropped 0,05 cents and Falgold, Hwange and RioZim were at unchanged levels. The stock market has 69 counters that are operational while others have delisted due to various problems such as lack of funding and poor machinery to operate effectively.
The market capitalisation started off the year at $3,96 billion and closed in June 2013 at $5,3 billion.
The stock exchange has been facing various challenges that include absence of new listings and poor performance, especially the mining index having only four listed counters since 2009.
In 2012, Zimbabwe's economic growth rate slowed down due to uncertainty surrounding the polls as well as lack of clarity on the implementation of the indigenisation and empowerment regulations compelling foreign-owned companies to sell 51% stakes to locals.
Companies, analysts say, experienced slow turnover in stock, while debt levels rose as borrowers failed to settle on time.