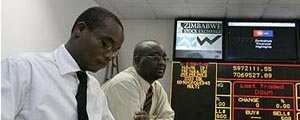 THE Zimbabwe Stock Exchange (ZSE)net purchases were down by more than three quarters in July compared to June due to reduced foreign purchases ahead of the harmonised elections, a local research firm has said.
Report by Business Reporter
Net purchases are the difference between the total investor purchases and total sales.
In its monthly equities review, MMC Capital said net purchases figures in the month of June were down to $2,26 million from $13,58 million in June.
"The decline was as a result of the reduced foreign purchases in the face of increased foreign sales ahead of the July 31 elections," MMC reported.
The research firm showed that during the period under review foreign purchases to total trades ratio fell to 21% from 31%, while foreign sales were 18% of total trades up from 13% in June. The report shows that monthly turnover went up by 4,7 percentage points higher than June to $42,57 million while average daily trades were up to $1,93 million from $1,85 million in June.
During the month of July, block deals worth $7,45 million were done, with National Foods and Afdis taking the biggest chunk of the deals, the report showed.
"The Natfoods and Afdis block deals were transactions in which foreigners were the buyers of the stakes in the business signalling the foreign investors' confidence in the prospects of the economy. There are increased chances though of foreign investors becoming net sellers of Zimbabwean equities if the trends that started in July persist in August."
The report states that in July institutional investors continued to dominate offshore investors compared to June with foreign investor participation declining to 39% in the period under review from 42%.
MMC showed in its report that Zeco Holdings' share price collated 200% in July followed by General Beltings and National Tyre Services.
PGI dropped 43% to close at 0,4 cents, followed by Falgold that lost 25% of its value. Barclays, BAT and OK Zimbabwe were the biggest movers at 44%, 43% and 38% respectively.
In his mid-term monetary policy, Finance minister Tendai Biti said the performance of the stock market was still below that of 2012 and was confined to a few solid counters.
Biti said foreigners dominated the market and average market participation is at 61% on the buy side while local investors are net sellers due to low disposable incomes and savings.
Biti said as a result of these challenges 20% of listed companies on the ZSE remain inactive and some have delisted and other applied for voluntary liquidation.
While activity at the ZSE was low last Friday with less than half of companies on the stock exchange having traded while the week-on-week index stood at 15,2% weaker from the previous week.
A total of 24 counters participated at Friday's trade from a total of 69 listed counters.
The industrial index lost 2,82 points to 196,02 points with losses having been recorded in heavy counters such as Innscor, Delta, Econet, OK Zimbabwe, Barclays and Dairibord, while gains were recorded in ABC Holdings, Meikles, African Sun, Art, First Mutual.
The mining index was steady at 57,94 points with all the four counters that include Hwange, Falgold, RioZim and Bindura still at the previous levels.