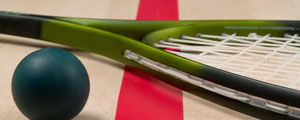 ZIMBABWE Olympic Committee (Zoc) President Admire Masenda has applauded the organisers of the Zimbabwe Open Squash tournament for successfully hosting the competition saying that the sport is headed for the right direction.
Vitalis Moyo
The tournament, sponsored by a local security company, Safeguard, got underway on Friday and came to an end on Sunday.
"I am pleased with the level of organisation that I have seen with this tournament.Sponsors want to be associated with well-organised sports where everything is run orderly and things are done on time. I am expecting that the sponsorship for this competition will be bigger and better next year."
"Squash is in good hands and on the right path," Masenda said.
Swimming sensation Kirsty Coventry was also meant to grace the tournament, but could not make it due to other commitments.
The singles titles in both the men and the women's category went to the Zambians with Ray Simbule clinching his third title after beating fellow country man Mwinga Lengwe 3-1 in the men's final while Sharon Chimfwembe claimed her fourth title when she beat Zimbabwe's Lauren Williams 3-1 to lift the women's title.
Zimbabweans Neil Nesbitt and Mike Burns continued to dominate the doubles category winning their 10th title after beating Lengwe and Enos Mwale 3-0 in the men's final.
Zimbabwe Squash Association chairperson Lucky Mlilo echoed Masenda's sentiments adding that the standards of play were high.
"The sport has grown immensely in the country. We had more of our junior players participating and doing well in this year's competition. We had a number of our Under-19 players showing interest in the sport and playing against top players. They have improved their play and that is good for the development of the sport," Mlilo said.
Botswana were back in the tournament after missing out in the previous edition.
They had brought some of their junior players that participated in the All-Africa games as well as Koketso Ntsebe who participated in the Men's World Teams championships which took place in France early this year.