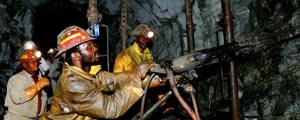 STATE-OWNED Zimbabwe Mining Development Corporation (ZMDC) has spent $4 million in an effort to operationalise its exploration arm, more than six months after missing the initial deadline.
Report by Tarisai Mandizha
ZMDC general manager Jerry Ndlovu yesterday said plans are underway to speed up the setting up of the Mining Promotions Corporation (MPC).
He said the company is currently acquiring new machinery as well as recruiting skilled personnel to be tasked with running the exploration firm.
The MPC, which seeks to spearhead exploration of minerals, is expected to be operational by year end.
Its role would be to quantify the amount of gold, diamonds, platinum, graphite and iron ore resources the country has.
Ndlovu said ZMDC has also identified new offices for MPC.
"What we have done is getting new equipment for MPC and we continue to recruit more people," Ndlovu said.
Ndlovu said the MPC is soon expected to recruit a chief geologist, senior exploration geologist, geophysicists, geochemists, surveyors, accountant and administrator.
"The operationalisation of MPC sets to benefit the whole nation as now we will be able to get geological data to have mineral knowledge and will be able to evaluate Zimbabwe's minerals," Ndlovu said.
He said the knowledge would give investors information on operations and would open room for new investment in Zimbabwe.
The setting up of the MPC comes at a time when government has stepped up the indigenisation policy compelling foreign-owned companies to sell controlling stakes to locals.
Already major mining companies have partially complied with the empowerment policy.
The commencement of operations of the MPC is expected to complement mining explorations undertaken by the private sector, albeit to a very minimal extent.
According to the Chamber of Mines, Zimbabwe's minerals sector is vastly under-explored and the country lacks the modern technology needed to explore and create a database of its resources.
Experts say Zimbabwe is endowed with over  40 base minerals.
The ZMDC was established by an Act of Parliament in 1982 to invest, plan and co-ordinate mining development projects on behalf of government and to engage in exploration and mineral beneficiation programmes.