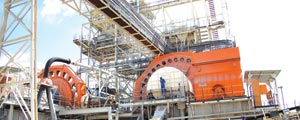 ZIMBABWE'S largest platinum miner, Zimplats, has recorded a 66% decline in operating profit to $22,5 million in the second quarter ended June 31, 2013 due to a drop in sales and a decrease in metal prices.
Tarisai Mandizha
Zimplats, according to the group's quarterly financial report, recorded a revenue decrease of 26% to $125,9 million from $169,3 million during the previous quarter.
The company, however, said the mining production improved by 2% to 1 226 000 tonnes from 1 198 000 tonnes on the previous quarter. "Head grade was affected by milling lower grade ore from Mupfuti Mine and Ngwarati stockpile," Zimplats said in a statement.
In the period under review, Ngezi Phase II concentrator plant was successfully commissioned in April 2013.
"Consequently, ore milled and metal in concentrate production were increased by 34% and 31% from the previous quarter respectively.
Metal in converter matte was 2% lower than the previous period as metal in concentrate stockpiled in the first half of the year due to furnace fire, was smelted in the third quarter."
Zimplats said 4E (platinum, palladium, rhodium and gold) metal sales decreased by 9% to 118 416 ounces (oz) as compared to 129 479 oz in the previous quarter due to lower production and an increase in converter matte inventory.
In the period under review, cash cost per 4E once increased by 15% to $592 from $515 in the previous quarter driven by lower production volumes, an increase in the effective electricity and a provision made for obsolete stocks at the year end.
Zimplats said previous quarter cost-performance benefited from smelting concentrates stockpiled during the furnace outages experienced in the first half of the year.
Revenue per 4E, according to the statement, decreased by 19% to $1 063 due to the decline in metal prices.
Zimplats said the company's local spent (excluding payments to government and related institutions) at $42 million or 57% of total payments to $49 million was in line with its commitment to supporting local industry.
"Zimplats paid $30 million to the government in direct and indirect taxes, 6% lower than the previous quarter due to a reduction in corporate tax payments arising from the lower metal prices," the company said.