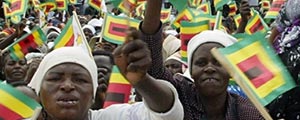 KWEKWE — Clashes erupted within Zanu PF Mbizo structures last Thursday over allegations that a section of its supporters loyal to Michael Manyumwa, who lost in the council primary elections, had voted for the MDC-T.
Blessed Mhlanga
Zanu PF embarked on a witch hunt to weed out people suspected of having contributed to the loss of the Mbizo constituency seat to the MDC-T when it appeared they could have won it.
After the elections which were won by councillor-elect Weston Masiya, Manyumwa and a section of his supporters were suspended from the party through a letter dated August 8 and signed by Gidi Ratonga Mbizo district chairperson only identified as T. Dube.
Manyumwa a former councillor, fell in the disputed Zanu PF primary elections to Jabulani Magudza although his claims of rigging were never addressed.
"You are hereby notified that you have been suspended from the party because you were involved in the Bhora Musango during the July 31 elections. You will be called for a disciplinary hearing," reads part of the letter.
According to Tapuwa Muto, a losing Zanu PF council candidate, Manyumwa openly campaigned for the MDC-T councillor during voting day and by so doing fired himself from the party.
"We have information that he was going about telling supporters to vote for Zanu PF only for the Member of Parliament and Presidency, but for council they should vote MDC-T," said Muto.
Manyumwa is alleged to have clashed with Magudza's supporters at Mbizo house number 815/6 while he was going to attend an internal party hearing together with his supporters.
The matter was never reported to the police, but Zanu PF insiders told NewsDay that deep-rooted divisions in the party were worsened by the alleged witch hunt and violence.
Manyumwa refused to discuss his suspension and pending dismissal from Zanu PF.
"I am not at liberty to discuss those issues with you. These are internal matters and will be discussed within the party," he said.