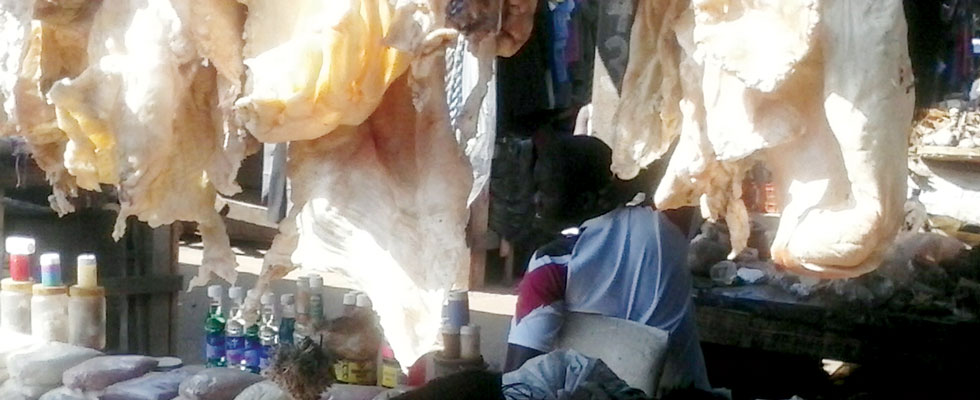 Mbare Musika is well known for reasonably priced vegetable produce, second-hand clothing and even traditional medicine.
REPORT BY VENERANDA LANGA
It is a hive of activity every single day as vendors and customers bargain their goods on display.
But there has been an unusual demand of animal fat, which is apparently selling like hot cakes.
Fat from sheep is one of the different types of animal fat on sale at the market.
But unlike goat or cow fat which is normally used for cooking, this kind is said to have medicinal properties.
Sekuru Tazviona Sibanda, a stall owner at Mbare Musika, said he was making a lot of money from sheep fat than any other forms of traditional medicines displayed at his table.
This section of Mbare Musika is popularly known for selling aphrodisiacs that enhance sexual performance and solve sexual problems like impotence.
"This is fat from sheep and people are buying it as it helps to exorcise evil spirits that can attack adults or even children," said Sekuru Sibanda.
"I am selling them at a dollar for a portion which can measure up to one's palm and this fat from sheep is in high demand," he said.
He said children that experience either convulsions or hallucinations could be cured by this fat.
"Anyone can just administer it on a patient.  It is burnt on charcoal so that it's a smell covers whole the house," Sekuru Sibanda said.
Zimbabwe National Traditional Healers' Association (Zinatha) director general George Kandiero confirmed that sheep fat had a curative effect, adding it could also be used as a love potion.
"Sheep fat falls under social medicines.  There are two categories of medicines, which are curative medicines and social medicines. Curative medicines are used for ailments like headaches, while social medicines are those used for things like exorcism of evil spirits which often cause sleepless nights.  Normally these are caused by jealous relatives or one's enemies and the cure is exorcism," said Kandiero.
He said although sheep fat was commonly used, there were other animal fats like lion fat that were also very effective in exorcising evil spirits.
"The fact that sheep fat can easily be bought from Mbare is because that is a domestic animal.  However, it is not easy for traditional healers to get fat from other animals like lions, elephants, leopards or even pythons because these species are protected by the Parks and Wildlife Authority. One needs to get a letter from Zinatha to buy that kind of fat.  It is possible to get it especially when Parks and Wildlife do culling of animals.  That is when traditional healers get python, lion, or any other animal skins," he said.
According to Kandiero, although sheep fat can be administered by even those who are not traditional healers on patients, there are some other concoctions that need experts in traditional medicine to administer them.
"For instance, sheep fat can be used as a love potion, but it has to be then prepared by an expert in order for it to be effective.  This is a very popular remedy and I can tell you that I have been with Zinatha for 21 years and I have witnessed a lot of people being healed after administering sheep fat.  However, I cannot give figures because a lot of people use sheep fat in secrecy due to the colonial mentality that African medicines are diabolical," Kandiero said.
Mbuya Martha Katsande, a Tafara-based traditional healer with 33 years' experience, said there were different methodsthat could be used to administer sheep fat including burning it, applying it all over the body, mixing it with other lotions, and/or eating it.
"Unfortunately, I cannot tell you some of the methods we use. As traditional healers we do not impart knowledge that way.  Sheep fat can remove bad spirits and it even neutralises mental disturbance and fits.  This is because sheep are of a quiet nature and so their fat neutralises mental disturbances," Mbuya Katsande said.
She, however, cautioned people to be careful when purchasing these animal fat remedies saying there were a lot of crooks in Harare and people could fall prey and end up purchasing cow or goat fat instead of sheep fat.
"That is why it is important for qualified traditional healers to administer the treatments on people because one can be duped.  Some of the treatment should be administered while one is possessed in order for it to be effective," she said.
Mbuya Katsande said even serious attacks from goblins (zvikwambo) and avenging spirits (ngozi) can be exorcised using sheep fat.
"Traditional medicine is so rich to the extent that things like elephant dung can be used on pregnant women to assist them avoid complications during birth," she said. However, she refused to divulge more into this practice as she feared people would steal her knowledge.
Madzibaba Jason an apostolic prophet based at one of the hills in Dzivarasekwa, explained that this fat could be used to break spells cast on individuals.
"This fat is melted and poured onto a fire. The affected person starts reversing whatever evil that is afflicting by chanting to send back to sender.
"The results are amazing. The person who cast those evil spells may fall seriously ill or even die," said Madzibaba Jason.
"Sheep fat falls under social medicines. There are two categories of medicines, which are curative medicines and social medicines. Curative medicines are used for ailments like headaches, while social medicines are those used for things like exorcism of evil spirits which often cause sleepless nights. Normally these are caused by jealous relatives or one's enemies and the cure is exorcism."