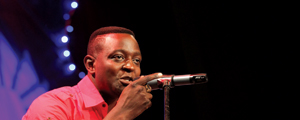 New Life Night Club Jah Prayzah makes a return to New Life Nite Club in Budiriro tonight where he will share the stage with another rising group Talking Guitars. The gangly musician last performed at the venue three months ago and fans will be waiting for his return. It would also be a chance for Jah Prayzah to reunite with his old friends in the suburb where he launched his career. Tomorrow Jah Prayzah will travel to the Eastern Highlands where he is billed to perform at Pick 'n' Save in Mutare.
Report by Entertainment Reporter
De Javu Night Club Dendera artiste Tryson Chimbetu plays in Kuwadzana 5 at De Javu tonight. Chimbetu frequently performs at the venue and tonight he shares the stage with raunchy dancer Zoey. On Monday Chimbetu performs at Circus Night Club in Strathaven.
Jazz 105 Tonight Peter Moyo performs at the venue in the city centre before taking his Utakataka Express for a show in Beatrice tomorrow. He rounds off the weekend with a slot at the Simon Chimbetu Commemoration gig at Harare Gardens.
Mushandirapamwe Hotel Newly-formed group Extra Kwazvose, popularly known as The Rebels, have a date with Highfield fans tonight at Mushandirapamwe Hotel where they share the stage with Morgan and Tendai Dembo.
Harare Gardens Top artistes that include Alick Macheso, Jah Prayzah and Peter Moyo will converge at the Harare Gardens on Sunday for Simon Chimbetu's commemoration gig and will share the stage with musicians from Chimbetu family.
Ligi Sports Bar Tomorrow night Ligi Sports Bar in Mabelreign plays host to upcoming Zimbabwe's own dancehall star Satisfaction. The young musician has a promising career in dancehall.
Millenium Night Club (Chitungwiza) The club tonight presents resident DJ Judgement on the turntables. He will offer a blend of reggae, dancehall and old skool music.
Victoria Falls Golf Course (Victoria Falls) Today Sulumani Chimbetu takes his current hits to Victoria Falls where he will play at the golf course. Tomorrow Sulu returns to the capital for a show at Ochi City.
Cape to Cairo (Bulawayo) Veteran reggae artiste Dino Mudondo plays in Bulawayo at Cape to Cairo tomorrow. Mudondo recently released his 15th album titled Ndakupihwa Namwari. On Sunday, Mudondo heads to the resort town of Victoria Falls where he will be expected to serenade revellers at Rest Camp.