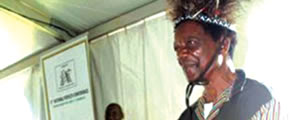 VETERAN Zimbabwean drummer Douglas Vambe recently opened a music academy at his Rujeko home in Marondera where he is teaching the youths to play Jerusarema/Mbende drums
Report by Jairos Saunyama . The 70-year-old drummer, who is popular for the signature tune of Zimbabwe Broadcasting Corporation's news bulletins, he offers free lessons to the youths who are interested in learning drum plying skills.
In an interview, Vambe said it was his duty as one of the best drummers to share his skills with the youths.
"I am getting old and weary and I feel we need more passionate traditional dance drummers," said Vambe.
"That was the reason why I decided to offer free lessons to those youths who are interested in knowing the secret behind the drum and I am very happy that so far I have taught more than 20 youths.
"Moreover, I am conducting lessons in primary schools where the pupils are showing interest in learning.
"I am happy that so far I have built a number of groups who are now well known in the country for playing the Mbende drum," he said.
Some of the popular Jerusarema/Mbende groups that have passed through Vambe's mentorship include Ngoma Dzepasi and Jerusarema Crew, among others.
Born on August 2, 1942 in Magunje Village, Uzumba, Vambe fell in love with the traditional drum at the tender age of four.
In September 2008 he went to the United Kingdom after being invited to perform at the Birmingham International Arts Festival.
He represented Zimbabwe with distinction during the 2010 Fifa World Cup football finals in South Africa where he rubbed shoulders with the likes of renowned R&B artiste R Kelly and Colombian sensation Shakira.
Mbende/Jerusarema dance is a popular dance style practiced by the Zezuru Shona people living in the Murehwa and Uzumba, Maramba and Pfungwe districts.