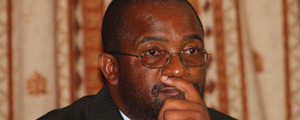 MDC-T said Sadc and the AU observer missions should not force the party to accept the results of the July 31 election which it said were flawed.
STAFF REPORTER
The party's spokesperson Douglas Mwonzora said its National Council will meet on Saturday to craft the way forward.
"The MDC totally rejects the election which was a monumental fraud by Zanu PF and State agents together with traditional leaders," said Mwonzora.
MDC leader Morgan Tsvangirai on Thursday described the elections as a "farce".