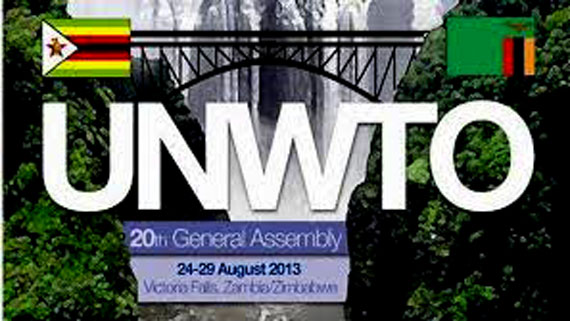 THE United Nations World Tourism Organisation (UNWTO)'s 20th general assembly co-hosted by Zimbabwe and Zambia in Victoria Falls and Livingstone roars into life tomorrow, presenting our country with a rare opportunity to market itself to the world. NewsDay Editorial
Zimbabwe has over the past decade grabbed international headlines for all the wrong reasons — especially its unending political dissonance and economic decay characterised by unprecedented hyperinflation.
The country is still seized with its political cacophony after the disputed July 31 elections, but albeit under different circumstances when the nation attracted the bad boy tag in Africa. Currently there is general peace, tranquillity and, above all, the economy has sort of stabilised despite the tumbling of stocks on the Zimbabwe Stock Exchange recently.
The relative peace must spur us to market the country to the world through the UNWTO.
It gives us an opportunity to rebrand and change the way we have been doing business over the years if we are to attract the much-needed foreign direct investment, to boost tourism and, above all, to be part of the global village and compete on an equal basis.
Tourism should be one of our country's major economic drivers given the natural endowments we have. We need to take advantage of the UNWTO general assembly to restrategise and showcase this country as the best tourist destination in Africa, if not the world.
Over $20 million has been invested to host the general assembly and should not go in vain. We salute tourism operators in Victoria Falls who sunk $16 million to ensure the success of the UNWTO general assembly.
We are more than glad that our political unmusicality did not get in the way of the UNWTO, but all the same we are also worried that the inclusive government seemed to have had little interest in bankrolling this very important once-in-a-lifetime assembly for the country.
The UNWTO has granted us the opportunity to accelerate our economic recovery through marketing the country to the international community.
It has presented us with the chance to rebrand and provide a gateway to international capital desperately needed to revive our industry and commerce.
There is no doubt that if successfully hosted, the UNWTO has the potential of attracting other major conferences to this country. A good example is what happened in South Africa after hosting the Fifa 2010 World Cup.
Several other international events were held in that country, in particular the COP 17 and BRICS summits. Zimbabwe has been in isolation for far too long, it cannot afford to miss this opportunity to reconnect with the world.
This is the time for Zimbabwe to shine!