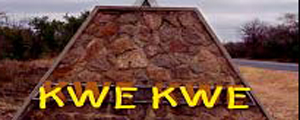 KWEKWE — The Midlands city of Kwekwe faces an interesting prospect — the selection of a mayor being decided by the toss of a coin, a first in Zimbabwe.
Blessed Mhlanga
Zanu PF and MDC-T won seven seats each in the Kwekwe municipal elections and if the two parties fail to reach an agreement, a very likely scenario, then they will have to resort to the unique option of deciding the city's mayor for the next five years.
According to the Urban Councils Act Section 103 (5), in the event that there is a stalemate after two consecutive secret ballots in the election of the mayor, the winner will be declared through the casting of lots during the meeting.
"If, at any meeting at which a mayor, chairperson, deputy mayor or deputy chairperson is to be elected, more than one candidate is nominated for that office, the election shall be by secret ballot and, if there is an equality of votes between two or more candidates and the addition of one vote would entitle any of the candidates to be declared elected to the office, there shall be a second election by secret ballot and, if that second election there is again an equality of votes such as is referred to above, the candidate to whom the additional vote shall be deemed to have been given shall be determined by the drawing of lots at that meeting," part of the Act reads.
Zanu PF and MDC-T members have already started jostling for Kwekwe's coveted top post.
Sources say Zanu PF had since put forward former councillor and businessman Matenda Madzoke as its candidate of choice.
MDC-T will hold a caucus meeting on Friday to decide whom among three front runners — outgoing Kwekwe-Redcliff senator and Health minister Henry Madzorera, businessman Charles Mkewa and journalist-cum-politician Owen Matava — to consider for the race.
Madzorera yesterday declined to commit himself on the mayoral issue, saying his interests were more on the election challenge which is playing out in the Constitutional Court.
"The party might have its own plans regarding my candidature as mayor of Kwekwe, but at the moment we are looking at the challenge which is before the courts, as we are concerned with the rigging that took place," he said.
Insiders say the MDC-T is pushing to have Madzorera bounce back into public office as mayor of Kwekwe, although there are reports that most councillors are comfortable working with Mkewa rather than the former Minister of Health.
"The national leadership have suggested that we put Madzorera for the post. He has a good head on his shoulders and could be the ideal man to lead the local authority, especially given the composition of council," an insider said.