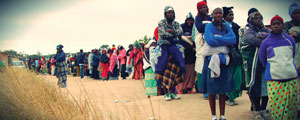 THOUSANDS of potential voters were yesterday turned away at several polling stations countrywide after their names were not found in the voters' roll or for going to wrong polling stations. Report by Staff Reporters
Some members of the uniformed forces that failed to cast their ballots last month also failed to vote after they found their names struck off the roll.
There were widespread reports of people with voter' registration slips, but whose names did not appear on the voters' roll and were turned away from the polling stations without voting or advised to go to the command centres despite the Zimbabwe Electoral Commission (Zec) having announced they should be allowed to vote. Some constituencies in Bindura and parts of Matabeleland last night ran out of presidential and parliamentary ballot papers and officials were making frantic efforts to source additional material from nearby polling stations.
Bindura deputy district elections officer Davis Chiriwo said there had been a high voter turn out in Bindura North and South constituencies.
Despite the hitches, head of the African Union observer team Olusegun Obasanjo said the elections were held in peaceful manner, adding that they were "credible, free and fair".
Addressing journalists at Harare's  Town House polling station last night, the former Nigerian leader said he met Registrar-General Tobaiwa Mudede on the issue of the voters' roll and he "could only accept" his explanation on the controversy raised by other parties regarding the election.
In Kwekwe, Memory Matandare was close to tears after she was turned away because her name did not appear on the voters' roll.
She produced her certificate of registration (04156593F), but was still turned away.
"I came here at 4am and was in the queue despite the cold, but now I have been told I can't vote because my name does not appear on the voters' roll," she said.
In Redcliff, a former councillor for the area, Sungai Cletus Masiyatsva, who is seeking re-election on an MDC-T ticket, also found his name missing from the roll.
Ironically, the key requirement for one to qualify as a candidate is to be a registered voter.
Zec chairperson Justice Rita Makarau said they were aware of the problems and were in the process of investigating.
"We are investigating cases in which such officers didn't vote because the register indicated they voted because their names were crossed out," she said.
Justice Makarau said voters who had been turned away in the morning because their registration slips did not indicate the wards in which they were supposed to vote should go back to the polling stations and cast their ballots.
"We advise all affected persons to go back and vote at any polling station in that constituency. Their details will be recorded in a separate record if they do not appear in the voters' roll," Justice Makarau said although she did not indicate  how this information was going to be communicated to the affected voters barely five hours before the closure of voting.
She said by 10am most polling stations across the country had opened with the exception of a few.
Justice Makarau said although the turnout was low in the morning, it gradually increased in the afternoon.
In Chipinge South, House of Assembly  MDC-T  candidate Meki Makuyana alleged that voting only  started two hours after the scheduled time following a mix-up in which his photograph  and that of  Zanu-Ndonga candidate Wilson Kumbula where interchanged on the ballot papers.
Zec Manicaland provincial officer Moffat Masabeya acknowledged the mix-up, but claimed voting had not been delayed, but started at the prescribed 7:00am. He said the matter was sorted in time before the opening of the polling stations.
Although polling was generally peaceful in Harare, there were reports of gunshots having been fired at Zaoga Church in Dzivarasekwa where police failed to control people who were jostling to vote. At Glen View 2 Primary School, some people got to the polling station as early as 3am.
"We are ready to shape our destiny and that is why we mobilised each other early in the morning to come and vote," said a man who claimed he had been there since 3am.
At Gapara polling station in Uzumba constituency — infamous for political intolerance — an MDC T polling agent, Lincoln Nyamhandu, said this year's election was a far cry from the bloodbath of 2008.  So eager were the people to vote that at  the Goromonzi District Administrator's Office, there was already a queue as early as 5am.
Voting in Chivhu started on a low note with hundreds of voters complaining of a "go-slow to frustrate us".
Chivhu, which has an estimated population of 30 000 people, had only three polling stations which resulted in long queues.
When the NewsDay crew arrived at 9am, only 154 people had voted.
"We have been here since 4am and it seems the officials are on a go-slow," said one frustrated voter. "But we are not going anywhere until we cast our vote. The queue takes close to one hour for people to move 30 metres," he said. At Gutu growth point, over 150 people had voted in ward 9 while in ward 10 close to 200 people had voted. The NewsDay crew was briefly detained by police after trying to take pictures of a local chief in ward 13 who was illegally arranging voters according to their names.
In Buhera West where former police spokesperson Oliver Mandipaka is contesting, there were empty polling stations.
Mandipaka had a list of names which he was going round the constituency with.
Makoni Central, home to Justice minister Patrick Chinamasa who is also contesting, was littered with polling stations as compared to other constituencies. Chinamasa is being challenged by Mavambo/Kusile/Dawn's Simba Makoni, who said he was confident of winning.
"I am very happy with the situation on the ground. I have been all over the constituency and victory is certain," said Makoni.
In Uzumba and Maramba Pfungwe (UMP), reports said known MDC-T supporters were being forcibly "assisted" to vote by known Zanu PF activists.
MDC-T chief election agent for the area Wellington Sandi told NewsDay that known supporters of his party were being "assisted" to vote even when they were literate and were not disabled.
"MDC people are being assisted to vote. Some people who are able to read and write are being 'assisted' to vote to make sure they do not vote for MDC," said Sandi.
Sandi said he had witnessed and received reports that this had happened at polling stations at Nyakarowa Primary School, Mutata Primary School and Japajapa Pre-School.
At Sowa turnoff in UMP, almost a quarter of those who had voted by 1pm had been "assisted" to cast their ballots although they were able to do so on their own.
At Gowa business centre, 636 people had by 2pm cast their votes while more than 400 people had cast their votes at Chaparadza Primary School in Rushinga.
Joint Monitoring and Implementation Committee observers who were not accredited by Zec were observing the election from a distance of at least 300 metres away from the polling station.
In Mount Darwin, most polling stations had become empty by 4pm.
For more election reports Click here