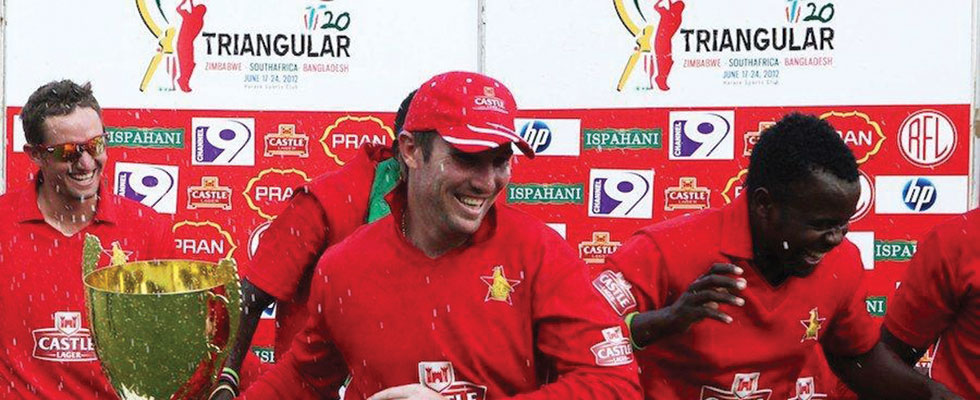 BULAWAYO — After their fifth heavy defeat in five games, Zimbabwe's cricketers might have been excused for wanting to leave Queens Sports Club as quickly as possible and, perhaps, get away from cricket and the pain of defeat for a little while. But the Zimbabweans didn't head straight for the team bus.
Report by Cricinfo
Instead, they walked into the Indian dressing room to talk to the Indians and glean a little knowledge from the world champions. Their rationale being that if you're going to get walloped, you might as well try to learn something in the process.
"They're in the changing room with (India) now, to talk to them," said Zimbabwe coach Andy Waller. "The best time to learn is now in the change room with the best players in the world, and talking one-on-one when you're not shy talking out in the open. And our guys are quite bad like that. They don't go up and ask questions about cricket, and that's how you learn. And I'm hoping we try to change that culture. Hopefully they'll learn something from what they hear from the guys."
Earlier in the day, when Zimbabwe were in the field, Waller himself had decamped to the top floor of the City End stand for a one-on-one chat with India's bowling coach Joe Dawes. Later, Waller was slightly late to the post-match press conference and Sean Williams, who had arrived slightly early, suggested that his coach was trying to get as much out of the Indian camp as he could before the visitors depart for Johannesburg, and on to Mumbai, yesterday morning.
The opposition dressing room is, of course, not the only place from where Zimbabwe should be picking up a few tips. Having watched India's batsmen pile on over a thousand runs for the loss of just 19 wickets in the series, they've had plenty of time to observe the best way to go about compiling a limited-overs innings. "You look at someone like Kohli for example," Waller said. "He doesn't play risky shots. He plays good, simple cricket and he finds the gaps, whereas I think our guys try to improvise more than they should. That's something that we're working really hard at: trying to convince them that that's the way we should be playing cricket.
"I think it's watching all this IPL and that sort of stuff that's got these guys thinking the only way you can score runs is hitting over the top and hitting sixes and fours. The Indians have proved to us that that's not the case. They shoulder arms like they're playing Test cricket, but they're still getting the runs on the board, because they're waiting patiently."
The lessons Zimbabwe are learning are not easy ones. The international cricket arena is a ruthless classroom, and their classmates are wealthier, more famous and more popular. Williams, who'd scraped his way to a fifty that held together a flimsy batting performance, admitted that the problem for Zimbabwe was that they might have been a little starstruck during their brush with the cool kids.
"I struggled with the bat in the first four games, but it was really a mindset of playing against the world champions," Williams said. "It's a lot different to playing against other teams like Bangladesh, Kenya and Ireland. Once I overcame that, everything seemed to gel together. Obviously I'm not happy that I didn't finish it off, but it's getting better. I'm looking forward to Pakistan arriving."
It's not just Zimbabwe's batsmen who could learn a thing or two from India. Though the Indian bowling attack was marginally less experienced than Zimbabwe's, they went about their business in a professional, consistent manner. Waller touched repeatedly on what Zimbabwe's game plans had been — to keep wickets in hand at the top of the order, to bowl a consistent line and length — and how those plans hadn't always been stuck to.
Indeed, Kyle Jarvis seemed to pay the price for his lack of consistency and inability to stick to a plan earlier in the series when he was rotated out of the playing XI, but he did, at least, seem to pick up quickly what was required of him and bounced back with a strong performance with the ball in the final match. "Jarvis wasn't really dropped," insisted Waller. "We've tried to rotate the guys. My whole intention at the beginning was to give all four seam bowlers an equal opportunity. But also, to be honest with him, Jarvis wasn't quite going by our game plans and he'd be the first to admit it. We wanted him to bowl a line and length and create pressure, and get wickets like that.
"The way he was feeling, he's a strike bowler and he swings it away slightly and that's how he thinks he was going to get his wickets. So he was bowling full and he was getting hit. So it's a learning curve for him, that we must play by the game plan. It's a team game, and he's learnt from it and it's shown today (Saturday) when he got 2 for 18 from eight. He bowled exactly how we wanted him to. We know he's capable of doing it, but I think he's learned from that error." Zimbabwe don't have a lot of time to let the lessons learned from India's trip to sink in. Pakistan will be visiting in a matter of weeks, and after them Sri Lanka follow. But that is not necessarily a bad thing. In fact, quite the opposite. A curriculum based around regular, top-level competition is exactly what this team needs.