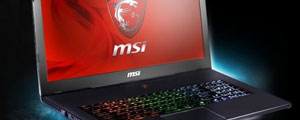 Taiwanese company MSI launched "the world's thinnest and lightest" gaming laptop on Tuesday, bringing a touch of sleekness to a market predominately filled with bulky competitors.
South China Morning Post Online
The laptop, named the GS70, measures less than 2.18cm and weighs 2.7kg, according to claims on the MSI website.
Featuring a design inspired by the F22 Raptor stealth fighter jet, the laptop comes in a sleek aluminium casing, features a 43cm screen and is packed with numerous bells and whistles.
These include the latest version of Windows 8, the newest Intel Core processor and Nvidia Geforce graphics card, dual fan cooling to keep the laptop from overheating, high definition surround sound, and even a special "Matrix Display" feature which lets users connect up to three external monitors to the laptop at the same time.