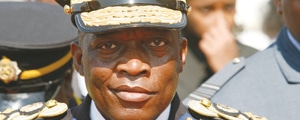 JOHANNESBURG — Police are investigating several Johannesburg metro officers for the unauthorised use of an unmarked blue light cavalcade.
Iol.co.za
The officers were returning from escorting Zimbabwean Police Commissioner-General Augustine Chihuri to the Beitbridge border post last week when they were detained by Polokwane police for allegedly travelling outside their jurisdiction in privately owned unmarked cars with blue lights and sirens blazing.
Controversial Joburg businessperson Phineas Manthata was allegedly in one of the vehicles.
The police released the officers without charge despite allegedly finding a stash of cash in one car.
The SA Police Service has confirmed it has launched a "full scale investigation into the matter".
This isn't the first time Manthata — whose business fits JMPD vehicles with blue lights, sirens, radios, armour and cameras — has been caught in a blue light row.
Two years ago the Saturday Star revealed how the self-styled His Royal Highness Prince of the Royal Kingdom of Batlokwa received an unprecedented blue light escort — armed and uniformed JMPD sergeants in a patrol car with flashing lights and sirens. At the time he said he had an arrangement with the JMPD to be given an escort if he had foreign officials coming to South Africa for business dealings.
Witnesses last week told the Saturday Star the cavalcade consisted of four cars and the JMPD officers were in full uniform, including appointment badges and licensed guns. They were using sirens, flashing blue lights and driving in wrong lanes when they were stopped.
Joburg metro police chief Chris Ngcobo confirmed his officers were stopped by the police in Limpopo while returning from Beitbridge. He said he had authorised them to travel in a convoy of unmarked cars to protect Chihuri.
Limpopo police spokesperson Brigadier Hangwani Mulaudzi confirmed the Polokwane Highway Patrol stopped four vehicles with police blue lights outside the town.
"The provincial commissioner was informed and instantly dispatched senior members to the scene," he said. "Upon inspection it was established that the vehicles were being driven by JMPD members in full uniform (their identities were confirmed). A thorough search was also conducted inside the vehicles and they were found to be clean."
However, Mulaudzi said it was decided after consultation with the provincial legal services and the commissioner to dismantle the blue lights at the scene — especially since the JMPD members were outside their jurisdiction.
But Ngcobo denied the officers had violated the law.
"The information I got is that they were stopped and asked to show their documentation which they had," he said. "There is nothing wrong with our guys escorting the Zimbabwean commissioner because we have a relationship. We always escort police commissioners from other countries when they come here. In fact we did just that two weeks ago with a commissioner from Zaire (DRC)."