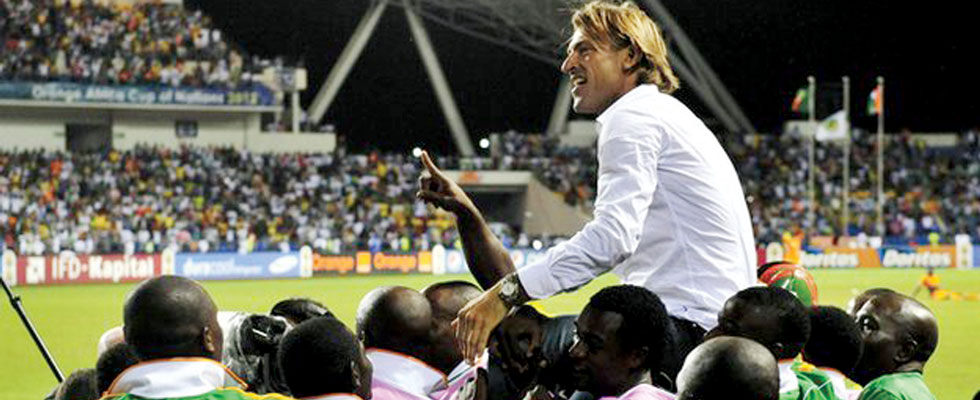 LUSAKA — Herve Renard could be in charge of Zambia at home for the last time today when they face Zimbabwe in a 2014 African Nations Championship (Chan) qualifier. Sapa/AFP
A goalless first leg in Harare confirmed the Chipolopolo (Copper Bullets) as favourites to win the second round tie and secure a place at the finals in South Africa.
"I am sure we will qualify," said Frenchman Renard, known throughout Africa as the man who defied the odds by guiding Zambia to the 2012 Cup of Nations trophy in Gabon.
But a timid, unsuccessful title defence in South Africa this year coupled with a faltering World Cup qualifying campaign have left Renard open to attack.
Keegan Mumba, coach of defending league champions Zanaco, was banned for three months after saying national team selections were "moribund and hatched in a tavern".
Renard responded to the criticism by steering hosts Zambia to first place in the the Cosafa Cup regional tournament during July with a 2-0 final win over Zimbabwe.
And another win over Zimbabwe at the Levy Mwanawasa Stadium in mining city Ndola this afternoon will enhance the CV of the charismatic 44-year-old Frenchman.
However, Zambian football insiders believe Renard will quit if the national team fails to win in Ghana during September and are eliminated from the 2014 World Cup race.
"Maybe after the game in Ghana I will decide my future, and Zambians will also decide what they are going to do with me," Renard told reporters after the Cosafa Cup.
"I think Zambians will realise the job I did with my assistant Patrice (Beaumelle) when we are very far from this country — perhaps they will realise we were not so bad."
Renard doubles as coach of the home-based Chan squad and flagged his ability four years ago by taking Zambia to third place at the inaugural tournament in Ivory Coast.
Zambia surprisingly failed against South Africa in a 2011 qualifier, but two wins and a draw against Zimbabwe this year suggest they can secure a second appearance.
The Copper Bullets had the better of the Harare exchanges with a header from giant striker Festus Mbewe and a free-kick from defender Fackson Kapumbu rattling the woodwork.
However, a score draw would squeeze Zimbabwe through and recently appointed coach Ian Gorowa believes his country can clinch a third consecutive visit to the Chan finals.
"The draw was not a bad result for us and the second leg is delicately balanced. We are creating chances without taking them and have been concentrating on that issue."
There are also two first leg fixtures with Mozambique hosting Angola in Maputo Saturday and Cameroon tackling 2009 champions the Democratic Republic of Congo in Garoua the following day.
The overall winners join Burkina Faso, Burundi, Congo Brazzaville, Ethiopia, Gabon, Ghana, Libya, Mali, Mauritania, Morocco, Nigeria, Uganda and South Africa at the finals.
They are slated for January 11-February 1 in 2010 World Cup venues Bloemfontein, Polokwane and Cape Town, where the opening game and final will be staged.