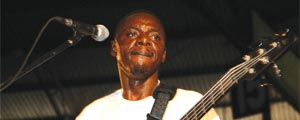 THE Zimbabwe Red Cross Society has defended Alick Macheso's donation of 70 blankets to revellers at New Life nightclub in Harare last Friday.
Report by Entertainment Reporter
Macheso donated the blankets in his capacity as Red Cross Humanitarian Ambassador, but his gesture was met with a barrage of criticism as people questioned the rationality of donating to merrymakers instead of the disadvantaged.
Zimbabwe Red Cross marketing and public relations manager Takemore Mazuruse said Macheso was involved in many charity activities under the society and the pub donation was only a way to make his fans understand some of his responsibilities.
"The Red Cross has done a lot with Macheso since his appointment, including reconstructing three destroyed four-roomed houses for the Chitungwiza blast victims," said Mazuruse.
"The New Life donation was just one of the many charity activities we have undertaken. We also realise that in as much as his legion of fans call him ambassador, not all understand the responsibilities that come with the title, but after the Friday donation and explanation given they now have an idea and would possibly want to play a part in their small ways."
Mazuruse added it was a misconception to conclude someone is not needy because they have attended a musical show.
"Some show goers actually have worse problems and extended family members to look after and they only drink to relieve stress.
"Even if they had everything, they still belong to the larger community where the needy, including orphans, are a common feature. This explains why Macheso told the recipients to take the blankets to the needy in the community in the event that they feel they have enough."
The society indicated it intended to use Macheso's shows to source commodities for donations to the needy.
"We actually hope to have Red Cross collection boxes at some of his shows with proceeds going to charity. It's all part of the bigger picture."
Macheso was appointed Red Cross Humanitarian Ambassador early this year.