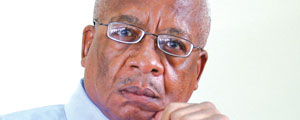 IT IS undeniable that the MDC-T are on the ropes, battered and bruised.
Report by Conway Tutani
But they have not been completely knocked out by their Zanu PF opponents after hanging onto a paltry 49 seats from their previous 100 following last week's harmonised elections.
Undoubtedly, the MDC-T were the biggest losers, but the most shocking loss was that of the Welshman Ncube-led MDC formation. From 10 seats in 2003, they got zero this time around. They overrated themselves and underestimated others, particularly MDC-T leader Morgan Tsvangirai, who was the butt of their jokes, only for his party to sweep all the Bulawayo Urban House of Assembly seats. Instead of digesting their devastating loss, they latched onto Tsvangirai's defeat, with MDC spokesperson Nhlanhla Dube saying: "The snippets coming out as rumour, however, are that 'The Mighty 61%' has fallen," in indirect reference to the MDC-T that had, prior to the polls, expressed confidence of attaining a landslide victory. That fixation with Tsvangirai cost them heavily.
Before that, they had said the red berets would cost the MDC-T heavily in Matabeleland because they were associated with Fifth Brigade, which is accused of the massacre of over 20 000 people in the region in the 1980s.
Again, this didn't happen.
Rejection can't be more emphatic than that. They trailed a distant third behind MDC-T and Zanu PF in Bulawayo itself. The explanation of it could be that Bulawayo residents, with their outlook not limited to the politics, interests or prejudices of one part of the country, saw the wisdom of voting for genuine contenders.
Five years down the line, Zanu PF is in a triumphant mood in stark contrast to the gloom of 2008 which led to the party unleashing some of the most shocking and brutal violence imaginable even by its own bloody standards to overturn their defeat within three months, while a perplexed world looked on.
This time around, Zanu PF's campaign started off and ended with a bang. They nailed away at the project until they got it right.
Indeed, Zanu PF stole a march on their opponents by cancelling local authority bills for everyone just days before the election. Such populist moves will gain traction among long-suffering people. Whether it's detrimental or not to the economy, people won't really be bothered at that point in time. People needing immediate rescue won't in the least care about long-term financial and service delivery implications of this and from whom, especially in the face of bloated, corrupt councils with top officials giving themselves obscene salaries. On that one, Zanu PF hit a winner even though they have been accused of causing hardships in the first place.
This time around there was no violence — at least on the surface — but was the actual situation vastly changed?
Zanu PF used the "herd mentality". This is most effective when people are herded like cattle to rallies in their scores of thousands, which Zanu PF did effectively. There is something hypnotic and infectious in a crowd; people — swamped, swept and swayed by the electrifying atmosphere — suspend individuality and end up thinking the same robotic way.
But most devastatingly, Zanu PF virtually camped in rural areas and Mbare, among others, where Jabulani Sibanda and Tendai Savanhu became political stalkers.
"Stalking is a form of mental assault in which the perpetrator repeatedly, unwantedly and disruptively breaks into the life-world of the victim, with whom they have no relationship or no longer have." (Wikipedia)
Political stalkers do not seek a personal relationship with their victims, but force them to emit a certain response favourable to the stalker. They accomplish a political agenda using threats and intimidation to force their targets to refrain and/or become involved in some particular activity, whether the victims agree or not.
That is how those some rural constituencies which only four years ago fell into opposition hands were regained by Zanu PF. Sibanda trudged the length and breadth of the country for four years to break the will of the people using threats of war. Savanhu became the godfather of Mbare completely outmuscling and sidelining the duly elected councillors who happened to be from the MDC-T, threatening the livelihoods of those resisting his unwanted approach.
No one could run business there without their say-so. Lumpen elements — such as criminals and prostitutes, who are plentiful in Mbare — were relentlessly unleashed on the people to make them compliant. The people's sense of self-worth was battered so much that they came to believe they did not deserve to be treated as human beings and had no option but to submit.
This panelbeating — along with blatant electoral irregularities and masterstrokes — is what tipped the vote — not Tafataona Mahoso and Co's ideological flights of fancy.
Last Saturday, I was not exactly shocked to hear a senior journalist in the State-controlled media openly boast that the money Zanu PF had lavished on its election campaign would now be channelled to Treasury. Through this misappropriation and privatisation of State revenue, they rigged the election from the word go, buying people left, right and centre. Under such a framework, there was no way the opposition could win despite the MDC-T's well-documented strategic and tactical failures.
This is a fact, not sour grapes.
Now some sections are saying Tsvangirai should have boycotted the polls under such conditions.
But had he taken that route, would the same long-suffering people have not turned against him for prolonging their misery? Tsvangirai didn't have much of leverage except the people.
All these "gifts" from Zanu PF to the people — cancellation of utility bills, indigenisation, etc — are to a large extent in response to the political threat he has posed.