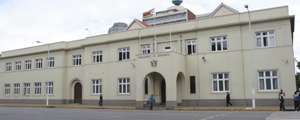 ABOUT 100 MPs in the forthcoming Eighth Parliament will have nowhere to sit in the House as the current Parliament can only accommodate 170 of the 270 elected legislators.
REPORT BY VENERANDA LANGA
Clerk of Parliament Austin Zvoma told journalists in Harare yesterday that Senate would not be affected since there would be 80 senators in the chamber whose sitting space accommodated more than 100 people.
He said there would be 356 legislators making both Houses, including five ministers appointed by the President who will not have voting powers as well as the Attorney-General, who is an ex-officio MP.
"We have space constraints for the National Assembly chamber which can accommodate only 160 to 170 MPs and it brings a lot of pressure to Parliament to accommodate the extra 100,"said Zvoma.
"In the meantime, the MPs who do not find seats might have to stand in the passages or they might have to sit in the Speaker's Gallery or even wait outside the chamber until they come in to debate."
Zvoma said there was nothing peculiar about the arrangement as the British Parliament was initially designed for about 180 MPs, but currently had about 370 legislators who ended up attending sessions while standing. Other accommodation problems that Parliament administration would have to solve are shortages of committee rooms, offices for MPs and ministers as well as toilets.
"We do not have enough committee rooms and other facilities such as toilets. Building of the new Parliament at Mount Hampden has been on the cards since independence and we are waiting in anticipation that this project may finally take off," he said.
On the progress of renovations at Quality International Hotel, Zvoma said some work had been done, but there was need of complete rehabilitation of the plumbing system as well as repainting works in order for it to accommodate MPs as a hotel.
He said Parliament was still saddled with a $750 000 debt in hotel bills accrued during the Seventh Parliament session and that the institution also owed MPs their sitting allowances.
Former MPs who spoke to NewsDay said they were owed between $10 000 and $20 000 each in sitting allowances.
Plans for the official opening of the Eighth Parliament are said to be at an advanced stage, while draft standing rules and orders for both Houses have been prepared in line with the new Constitution.