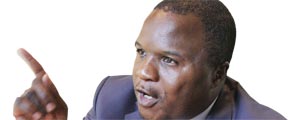 DESTINY for Afrika Network founder Obadiah Musindo was yesterday hauled before the courts by Business Support Services (BSS) over a $4 000 debt. It was not disclosed how Musindo incurred the debt. The two parties' representatives told Harare magistrate Tendai Rusinahama that they had agreed on a payment plan and were seeking the court to confirm it.
Report by Staff Reporter
"We met yesterday (Monday) and we reached an agreement that he will indeed pay us," said a BSS female representative in court.
"He has agreed to pay $500 today (Tuesday) by 1pm, another $500 on August 9, $1 000 on August 16, $1 000 on August 27 and another $1 000 on August 31," she said.
"This money should include the $4 000 debt plus interest."
Theresa Savanhu representing Musindo told the court that he had assigned her to attend court on his behalf since he was out of Harare.
"I am representing Musindo. I am not a lawyer, but I work for Destiny for Afrika. Musindo is out of town at the moment, that is why I am here," said Savanhu, whose name was not cited in court papers as a respondent.
Rusinahama confirmed the agreement had been turned into a court order that gave Musindo until August 31 to pay up.