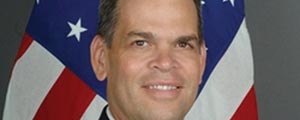 THE United States yesterday dismissed claims by President Robert Mugabe that it had issued a travel warning to its citizens intending to visit Zimbabwe.
REPORT BY MOSES MATENGA
Mugabe told delegates during the UNWTO closing session in Livingstone, Zambia on Wednesday that there was a post on the Internet about a bomb having been planted at the venue of the function to scare people away.
"We are not terrorists. We are not murderers. We don't kill people. There was a post on the Internet from London that a bomb had been planted somewhere here for you to be scared and disperse," Mugabe said.
"Then (the warning came) also from Washington and we are surprised. Is the warning given to those wanting to visit this country saying that visiting the Victoria Falls was dangerous?" he asked.
In response to inquiries by NewsDay on Mugabe's statements, the US Embassy spokesperson Karen Kelley said there was no such warning given by America on the just-ended event.
She said the US had, in fact, participated in the UNWTO.
"The US government has not issued a travel alert or a travel warning cautioning American citizens against travel to Zimbabwe. In fact, Ambassador (Bruce) Wharton has worked to promote tourism to Victoria Falls and Zimbabwe in recent months," Kelley said.
"Although the US is not a member of the UNWTO, US government representatives from the US Embassy in Harare, the US Embassy in Lusaka and from Washington DC participated in the recent UNWTO event held in Victoria Falls and Livingstone."
Mugabe said the scare was meant to drive delegates away and kill the mega-event that the Americans, British and Canada boycotted.
Mugabe said that the people who had attended should go back to their countries to tell the truth about Zimbabwe.