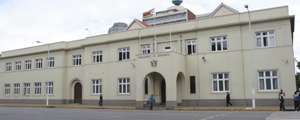 A VOLUNTARY parliamentary lobby group, African Parliamentarians against Corruption (APNAC), yesterday said the incoming legislators should be made to declare their assets before taking oath of office to curb illegal accumulation of wealth.
REPORT BY VENERANDA LANGA
Both MDC-T and Zanu PF officials of the organisation yesterday agreed the move was critical and even suggested it be extended to Cabinet ministers.
APNAC Zimbabwe chapter chairman, who is also MDC-T MP-elect for Kambuzuma, Willias Madzimure, told NewsDay the Seventh Parliament Standing Rules and Orders Committee (SROC) had agreed on a code of conduct for the declaration of assets and it was now time to implement it.
"The SROC had already agreed on a code of conduct which actually calls upon all members – on being sworn in – to declare their assets, and according to how APNAC sees things now, the newly elected MPs should be compelled to fill in asset declaration forms on swearing-in day," said Madzimure.
APNAC secretary general, who is also Zanu PF MP elect for Mwenezi East, Kudakwashe Bhasikiti, said the declaration of assets should also be enforced on Cabinet ministers as well as senior civil servants who will be appointed into key posts.
"It is actually a requirement for all government employees to declare their assets. Last year we had MPs and members of the Executive who declared their assets and that is why we are urging the newly elected to follow suit," he said.
Bhasikiti said one of the aims of APNAC would be to push for a Statutory Instrument to compel civil servants to declare assets.
Madzimure said: "APNAC feels whoever has been elected into power should now prove they acquired their assets in a clean manner so that whenever they accumulate wealth during their tenure in office, people know it is corruption-free."
He said there were a lot of new legislators who would be joining Parliament and APNAC would hold induction workshops to ensure they understood the importance of fighting corruption.
"The Anti-Corruption Commission has been under siege and there is a lot APNAC needs to do with newly elected MPs to fight corruption," he said.