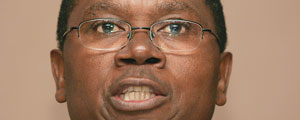 MAVAMBO/KUSILE/DAWN (MKD) leader Simba Makoni yesterday said the absence of ultraviolet scan machines to check indelible ink marks on voters' fingers presented further evidence that the just-ended elections were subject to massive manipulation.
Report by Everson Mushava
Addressing a Press conference in Harare, Makoni said electoral fraudsters were likely to have capitalised on the loophole and voted more than once. He said the elections, which have already been condemned by the MDCs and Western countries as a farce, should be declared null and void.
"In previous elections where inedible ink was used, ultra-violet machines were used to detect those who would have already voted," Makoni said.
"This practice was suspiciously abandoned in this election, and it was left to the inspection of elections officers to detect the 'pink' finger using the naked eye."
Given such a scenario, he said, a voter could easily wash away the ink using chemicals or even water and vote multiple times at the several polling stations within their wards. An audit of the voters roll used in the elections would expose this.
The former Zanu PF Finance minister contested for the Makoni Central parliamentary seat on an MKD ticket and lost to Zanu PF's Patrick Chinamasa.
President Robert Mugabe and his Zanu PF party won the elections by a wide margin, but the MDC-T is now challenging the results in court.
Makoni said although the elections were largely peaceful, they were not free, fair and credible.
He also cited several anomalies, among them, the use of voters' registration slips without a mechanism to verify their authenticity and the non-availability of an electronic voters' roll as having put the credibility of the polls into question.
"There is strong suspicion that in the absence of a final voters' roll, the use of voter registration slips as proof of registration could have been used to enable multiple voting," he said. The electronic voters' roll was still not available, he said.
"The chairperson (Zec) confirmed that they had printed 35% more ballot papers than the estimated number of registered voters. However, she was unable to explain convincingly the need for so many ballot papers, compared to the regional and global best practice of between 5 and 10%.
"Up to now, there has been no reconciliation of the ballot papers used on polling day, against those printed," said Makoni.
He said Zec violated the Electoral Act by publishing 65 extra polling stations on the eve of the elections after contesting candidates had already deployed their polling agents.
"In most cases, the only election agent deployed in these additional polling stations represented candidates from one political party. Therefore, there can be no confidence that votes in these additional polling stations were genuine and authentic," said Makoni.
He said according to election results released by Zec, Zanu PF votes increased substantially, suggesting that all new registered voters were from that party.
"A discernible and consistent pattern in the results of the 2013 elections, compared to 2008, is the implied growth for Zanu PF. For example in Harare South, Zec officials results show that 29 074 people voted on July 31, compared to 23 999 in 2008.
"Of the 29 074, 20 069 voted for Zanu PF, up from 7 111 in 2008, an increase of 12 958. By contrast, 7 472 voted for MDC-T in 2013, up from 4 489 in 2008, an increase of 2 983. These numbers indicated that 5 075 new voters registered in 2013, and they all voted for Zanu PF," he said.
Makoni said he would lobby national and regional organisations to ensure that Zimbabwe holds fresh polls whose outcome would be accepted.
He called for an audit of the ballot and polling stations using an independent forensic expert and establish "national and international" consensus on the need to hold free and fair polls.
"Notwithstanding the chorus of public congratulations pouring in from around us, we trust that the essence of the preliminary reports of both the Sadc and African Union elections observers' missions has not fallen on deaf ears," he said.