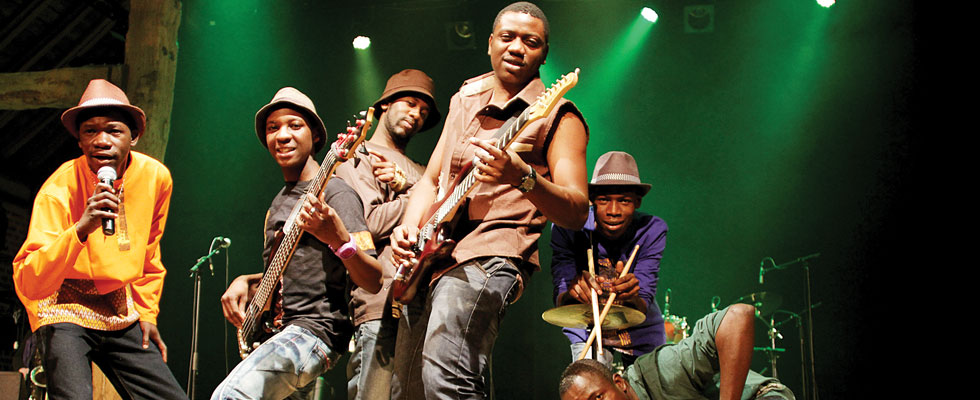 FOLLOWING phenomenal success on the international market, Afro-fusion group Mokoomba is now poised to conquer the local market.
Report by Entertainment Reporter
The group's popularity at home is still low yet its international acclaim surpasses many an accomplished local musician's global appeal.
Mokoomba's manager Marcus Gora said they were looking forward to penetrating the local market and prove why the group had scaled world music charts and attracted the attention of international festival organisers.
"Our local audience is growing slowly and we are making good progress since we are still in the early stages of our career," Gora said.
"Our plan is to perform at many concerts across the country and to distribute our music so that it is available to many Zimbabweans.
"We have been addressing concerns about people not understanding the languages that we sing in by posting the translations of our lyrics on our website and we urge people to try and also learn some local minority languages."
Mokoomba's music is mainly in the Tonga dialect.
"Distributing music effectively to the local market will ensure support from all the players in the music industry like the promoters, venue owners and corporates."
Few people could have predicted the international rise of Mokoomba, a young band from the minority Tonga and Lubale cultures.
The band has been propelled onto the world music global stage by its infectious, funky music and high-energy live stage act and they are rocking crowds everywhere they go.
With a growing number of accolades including the National Arts Merit Awards', Arts Personality Accolade and the Songlines Best Newcomer Award, the group has established itself as a formidable force with a bright future.
Through the success of their critically acclaimed album Rising Tide, Mokoomba is doing the nation proud and putting Zimbabwe's musical and cultural diversity on the international map.
Mokoomba is currently winding up their 15-country European and North African tour which started in May.
They are expected back in the country in time for the UNWTO conference which will be hosted in their hometown Victoria Falls.
The band's spokesperson and bass guitarist, Abundance Mutori, said the current tour had been highly inspiring.
"We have been performing in front of large audiences at major festivals like Roskilde, WOMAD and Paleo to mention a few. Some festivals were headlined by big names like Rihanna and Carlos Santana," Mutori said.
"We were also fortunate to do some great interviews with the BBC and CNN which helped us reach a wider audience and an opportunity to speak positively about our culture and country. We look forward to resuming performances in Victoria Falls and Harare before travelling to Kenya early next month."
The band expressed deep sadness on the passing on of Chiwoniso Maraire, whom they described as a giant who worked tirelessly to promote Zimbabwe's culture and heritage and was loved by many at home and around the world.