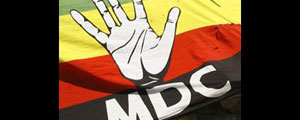 THE MDC-T rebels who were fired from the party for defying a directive not to contest the July 31 parliamentary and council elections as independents have formed a breakaway party — the Zimbabwe Independent Alliance (ZIA).
POLITICAL EDITOR
The new party's interim spokesperson, former Magwegwe MP Felix Magalela Sibanda, confirmed the development last week, but declined to disclose other members of his organisation.
"Unfortunately, it is premature for me to tell you about other members except that I am the spokesperson," Sibanda said.
"However, most of those who contested as independents and others who were mistreated at the primary elections are for this idea.  We are already working on our draft constitution, membership cards and mission statement."
Several aspiring MDC-T parliamentary and council candidates contested the elections as independents after they fell out with the party over alleged imposition of candidates.  The rebels went on to form a group — the Independent Candidates Coalition (ICC) — in a bid to pool campaign resources.
However, the MDC-T immediately announced that by standing as independents, the rebels had automatically expelled themselves from the party.
The ICC leadership is comprised of Magalela Sibanda (spokesperson), chairman Aaron Chinhara, who was bidding for the Redcliff seat, Tedius Chimombe, who was bidding for the Gweru Urban seat, as the organising secretary, and former Gweru ward two councillor Holy Dzuda is the treasurer.
Although Magalela Sibanda declined to name other executive members of the new party, it is suspected that the party's interim leadership is made up of members of the ICC. Former Pelandaba-Mpopoma MP Samuel Sandlwana Khumalo is also believed to be part of the project.
Other ex-MDC-T members who stood as independents include journalist-cum-politician Geoffrey Nyarota. It is not clear if he is a member of the new party.
Magalela Sibanda told NewsDay on Friday that the decision to form a breakaway party had been prompted by lack of transparency and democracy in the MDC-T.
"(MDC-T leader Morgan) Tsvangirai was misled by the party's standing committee to impose amafikizolo (newcomers) on the electorate.  The MDC-T constitution clearly stipulates that any member to contest for a parliamentary or senatorial seat must have served the party for not less than five years and to contest to be councillor, one must have served for a minimum of three years.  All this was disregarded resulting in the chaos we witnessed," Magalela Sibanda said.
Contacted for comment MDC-T spokesperson Douglas Mwonzora said: "It's a democratic right of anybody to form or belong to a political party of their own choice. What we know is that the MDC will rule this country one day because it is the biggest political party in Zimbabwe."