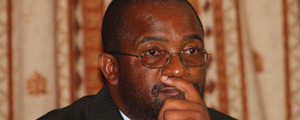 THE MDC-T yesterday said securocrats who have partisanly dabbled in party politics should resign if they do not want to apologise for their "unprofessional conduct".
Report by Dumisani Sibanda,Assignments Editor
In an interview with NewsDay ahead of today's Defence Forces Day commemorations, MDC-T spokesperson Douglas Mwonzora said his party remained seized with the non-implementation of security reforms although it was no longer in government.
"The MDC-T as a party respects the professional men and women in the defence forces and is concerned very much about their welfare," he said.
"We still strive to make sure the defence forces are not held hostage by a small clique of partisan people. We still maintain there is need for security sector reforms to make sure defence forces are protected and weeded out of partisanship. Those who dabble in politics, those who have made partisan statements, must retract them or resign."
Since the presidential elections in 2002, some securocrats have maintained that they would not salute anyone without liberation war credentials in apparent reference to MDC-T leader Prime Minister Morgan Tsvangirai.
In the run-up to the recent harmonised elections, the security chiefs escalated their attacks on Tsvangirai with the Zimbabwe Defence Forces Commander, General Constantine Chiwenga, labelling the Premier a psychiatric patient in need of a competent psychiatrist, while Police Commissioner-General Augustine Chihuri insinuated the MDC-T leader was a malcontent who did not deserve any attention from him as the chief of police.
During the Southern African Development Community summit held in Maputo last month, the regional bloc reportedly directed that the securocrats must publicly retract their statements before the elections, but the latter defied the directive.
The constitutional mandate of the security forces is to protect Zimbabweans regardless of their political affiliation and they are not supposed to dabble in politics.