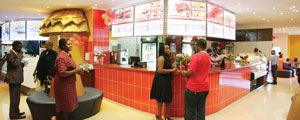 TN Mart, a unit of Lifestyle Holdings, has embarked on a massive downsizing exercise after the retailer closed four outlets in Harare last month, NewsDay Business has learnt.
BERNARD MPOFU
Lifestyle Holdings majority shareholder Tawanda Nyambirai said the group had resolved to roll out "virtual marts", cutting down on its branch network, following Econet's takeover of TN Bank, now Steward Bank.
Early this year, Zimbabwe's largest mobile phone operator increased its stake in TN Bank Limited (TN Bank) to 97,96% following a cash and share swap deal.
TN Grill and TN Mart, according to Nyambirai, currently has 10 TN Grill restaurants — nine in Harare and one in Marondera — and has plans to open new branches in Chivhu, Gweru, and Masvingo using internally-generated funds.
"Before the disposal of TN Bank, TN Holdings Limited's business model revolved around TN Bank.  TN Bank's own vision then was to have an expansive branch network where people live and where they work in order to deliver convenient banking services to its customers," Nyambirai said in an interview yesterday.
"To make the branch network affordable, the network had to offer other products.  That is where TN Mart came in.  Here, the interest was not in the business of selling groceries.  The interest was to deliver banking services in all malls that provided one-stop convenience, including groceries.
"It was on this basis that the suburban TN Mart shops were set up at the former Rufaro Marketing sites.  After selling TN Bank, our business model changed.  The business model for TN Mart is not to set up many supermarkets.  The model is around a virtual mart and convenient shops that exist alongside TN Grill restaurants.  The suburban TN Mart shops did not fit into this new business model.  That is why we closed them down.  The sites were not suitable for TN Grill restaurants either."
In April this year, TN launched its virtual mart — where the retailer would deliver groceries worth at least $10  to its clientele's doorstep at no extra charge as competition in the country's retail sector intensifies. The company, according to its webisite, sells a wide range of consumer goods, mainly groceries with more than 3 000 lines on sale.
TN Mart also has a credit facility which allows customers who have bought furniture from TN Harlequin Luxaire to buy groceries on a 30-day credit period.
Sources close to the development, however, said TN Mart, one of the new entrants in the retail industry focusing on fast-moving consumer goods, closed branches in Glen Norah, Willowvale, Warren Park and Kuwadzana due to lukewarm market response.
The sources said the company's  Robert Mugabe and Fourth Street branch in Harare had remained operational albeit experiencing low business, blighting the group's prospects of rolling out more branches by year end.
"The market has had a lukewarm response to the virtual mart business model. Since closing the TN Grill First Street branch at the start of the year, business has been tough for the group," said one source.
"The company is facing challenges in paying salaries on time. Nearly 80 workers have been affected by these closures although the workers have been transferred to other branches amid indications that they may soon be jobless."