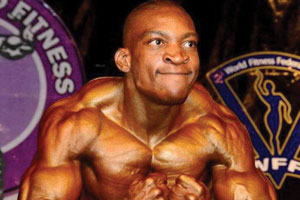 REIGNING Musclemania Zimbabwe champion Victor Hungwe has declared his readiness to defend the title he won last year when he flexes his muscles in the second edition of the Musclemania Zimbabwe at Ochi City, Harare, on SaturdayHungwe, the hulk from Body Active Gym, said he was in the shape of his life and has set his sights on retaining the coveted title.
REPORT BY DANIEL NHAKANISO
"My preparations have gone pretty smooth and I can safely say I'm in the best shape of my life and I'm definitely ready to defend my title.
"I want to extend my gratitude to my main sponsor Jeff Masango and Body Active Gym for all the support in ensuring that I prepare adequately for the contest by taking care of my diet and all the logistics," said Hungwe.
Last year, Hungwe drove home in a Honda Fit after winning the inaugural edition of the Musclemania Zimbabwe contest.
A lot will be at stake again this year when the country's finest bodybuilders showcase their muscles.
A top prize of a VW Polo, a residential stand, among other prizes, will be up for grabs for the winners in the five categories on offer.
Musclemania Zimbabwe organising secretary Tofara Moyo said all was set for the much-awaited contest.
"I can safely say that everything is now set for the big stage," Moyo told NewsDay Sport yesterday.
"Locally, the cream of Zimbabwean bodybuilders, including the defending champion Victor Hungwe, Vincent Kandiyero, who just retained his Iron Man title, Isaac Sugar Chimuchenga, Eddie Marondera and Champion Mbewe, who is based in Botswana, are all expected for the contest," said Moyo.
"In total we are expecting over 100 bodybuilders from all the country's provinces and outside the country."
Moyo said pre-judging for the event will be held at Scorpion Gym in Queensdale on the morning of the show.