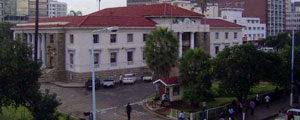 HARARE residents, who for the past five years had endured poor service delivery under the MDC-T-dominated council, have set high benchmarks for the newly-elected councillors who are yet to assume office.
WONAI MASVINGISE
In a statement yesterday, Harare Residents' Trust (HRT) advocacy officer Pretty Chabuda said:"The RC (Residents' Council) executive resolved that the incoming council should prioritise water delivery, upgrading the distribution of infrastructure and the quality of the water delivered. This should extend to the rehabilitation of the Firle Sewerage Treatment Plant to make it fully functional."
Chabuda accused the previous council of failing to effectively communicate with residents, saying it was their hope that the incoming council would take residents' views on board.
"It is hoped that the City of Harare will seriously review the work of their information and publicity committee and the public relations department, which largely failed to communicate council messages and facilitate engagement of the council and the residents, for example on the water shortages, rationing, billing challenges and disease outbreaks," she said.
Chabuda also bemoaned the under-utilisation of refuse collection trucks which she said was due to the unavailability of fuel. "Other key priorities that emerged during this meeting include waste management, where the major concern is on the utilisation of the refuse collection vehicle fleet. The council says it has 47 refuse collection vehicles, but only six are operating due to fuel challenges.
"The residents wanted the council to join hands with the residents to fight improper disposal of refuse by consistently collecting refuse and putting in mechanisms to deter littering.
"The second emerging priority was that the council should make a binding resolution that the council clinics should not be closed during tea breaks and lunch hour as this is jeopardising the lives of many patients who would have come to seek medical attention and are ordered to wait until lunch hour is over. And it is usually extended without explanation," Chabuda said.