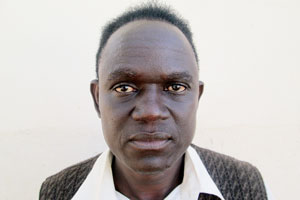 KWEKWE — Zanu PF's Kwekwe Central MP-elect Masango Matambanadzo, popularly known as Blackman, managed to do what his provincial political godfather Emmerson Mnangagwa twice failed to do — wrestle the seat from MDC-T's Blessing Chebundo.
Report by Blessed Mhlanga
Matambanadzo, a self-confessed Grade Two dropout, displaced Chebundo in the July 31 harmonised elections.
"A lot has been said about my educational qualifications, but I say I am educated, I went to school. I did my Grade One, then Grade 2 and stopped there. But I know what the people want and how to do it," Matambanadzo said.
Recently, Chebundo stirred a hornet's nest after he poked fun of Matambanadzo's educational level and labelled him an empty vessel during a public debate organised by the Media Institute of Southern Africa-Zimbabwe Chapter, triggering an angry response from Matambanadzo's supporters.
A former photographer who used to earn a living on the streets taking pictures, Matambanadzo now owns commercial buildings in Amaveni, but has no residential property of his own.
"The MP for this area stays at the back of his Amavemi tuckshop, he has no known house. He sleeps there, that's where you can find him," said Allen Matema, a Zanu PF supporter from Amaveni.
Insiders in the Matambanadzo camp said the MP-elect relied on aides who do the writing and reading for him.
During filing of nomination papers, Matambanadzo allegedly failed to write his details on the nomination papers provided by the Zimbabwe Electoral Commmision until his aides came to his rescue.
Chebundo made his name by flooring Mnangagwa in the 2000 and 2005 parliamentary elections.