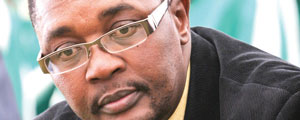 THE government has reportedly made a U-turn on its ban on helicopter flights over the Victoria Falls during United World Tourism Organisation (UNWTO) General Assembly after tour operators raised concerns over the moratorium, as their Zambian counterparts were not affected by the same ban.
Report by Richard Muponde
Players in the tourism industry in Victoria Falls yesterday told our sister paper Southern Eye that Tourism minister Walter Mzembi had advised tour operators to continue with their helicopter flights until they get formal communication to stop.
"He said helicopter bookings and flights should continue as normal until a time when formal communication has been made to cease the flights," an official said on condition of anonymity.
"I think they want to treat this issue as a security matter.
"Flights might be stopped for a few hours, definitely during the official opening of UNWTO helicopters will not be flying because they can't fly over while the Head of State (President Robert Mugabe) is addressing the delegates."
Contacted for comment on the issue, the national president of the Employer's Association of Tour Operators and Shearwater Adventures public relations manager Clement Mukwasi said they were continuing with normal flights and bookings as nothing had changed on the ground.
"We are continuing with our bookings and flights," he said.
"We have not received any formal communication from the relevant authorities to stop the flights."
Last week Mzembi announced the ban on helicopter flights in Victoria Falls, a situation which riled tour operators.
Tour operators in the resort town said the ban would affect their operations as they made bookings as far back as last year.
They said refunding tourists would be impossible as modalities had been made.
Reports were that Zambian operators were not affected by the same ban as their government has not issued out such a directive.
However, tour operators in the resort town were not against the directive, but had asked the government to give them parameters from which to operate in, rather than completely ban flights since they were overbooked.
Mzembi could not be reached for comment on the new development as his mobile number was unreachable.