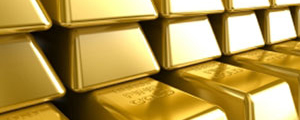 GOLD on Friday retained its sharp gains from the previous session as a softer US dollar offset traders' fears of moves by the US central bank to taper its stimulus measures next month.
Reuters
The metal gained nearly 2% on Thursday after having fallen to a three-week trough earlier this week. Its recovery was helped by the dollar's slide to a seven-week low.
Gold was also supported by Friday's strong data from China that suggested economic optimism and news of falling mine output in South Africa.
"The weakness in the dollar is causing some short-covering in gold," said Ronald Leung at dealer and refiner Lee Cheong Gold Dealers in Hong Kong.
The dollar was trading near seven-week lows on Friday after having fallen for five straight sessions, as risk-seeking investors abandoned the greenback after China's surprisingly strong trade figures.
"We are expecting more profit-taking if we trade above $1,320 to $1,322," said a precious metals trader in Singapore.
"The magic number from here to cross and hold above is $1,331." The recovery in prices might not last, however, as sentiment was still bearish, traders said, adding that a level near $1,300 could suggest a swing either way.
Spot gold was $1 lighter at $1 310,21 an ounce by 0735 GMT. It had hit a three-week low of $1 272,64 this week on fears the US Federal Reserve would begin scaling back from September its monthly bond purchases that run to the tune of $85 billion. The metal has lost a quarter of its value this year as investors exit gold-backed exchange traded funds, seeing an end to easy central bank money.
The Fed is likely to begin cutting back on its massive bond-buying programme next month, as long as economic data continues to improve, a top central bank official known for his opposition to the programme said on Thursday.
A gauge of the trend in layoffs of American workers fell last week to its lowest since before the 2007-09 recession, a hopeful sign for the US economy that supports the case for a tapering in bond purchases.
SPDR Gold Trust, the world's largest gold-backed exchange-traded fund, said it saw outflows of 1,2 tonnes on Thursday, bringing total holdings to 909,33 tonnes.
Outflows from gold ETFs this year totalled $30,9 billion by July, Blackrock said in a report.