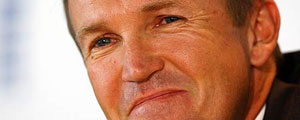 LONDON — England cricket coach Andy Flower yesterday insisted he has no intention of walking out on his Ashes heroes just yet.
Reuters
Flower's team completed its 3-0 series victory over Australia after a dramatic drawn fifth Test at The Oval on Sunday, but the Zimbabwean had little time to celebrate before being quizzed about his future.
Less than 24 hours later, Flower responded to reports at the weekend that he may quit his current role after the return Ashes series in Australia later this year.
Reports suggested Ashley Giles, England's one-day international and Twenty20 coach, was being lined up as his replacement.
The 45-year-old Flower, who was appointed as England's team director in 2009 after a spell on the backroom staff, stopped short of pledging himself to the role long term, but also gave no obvious hint that an exit is imminent.
Asked if there was anything to reveal about his position, Flower said: "No, there is not. I don't like to look too far ahead with regards to my own personal situation."
Amid all the talk of Flower's future, it was almost possible to overlook the contentious end to the Ashes at The Oval.
England needed just 21 runs in 24 balls when the umpires ordered the teams off for bad light, following established protocol, but ruining what would have been a superb series finale.
England and Wales Cricket Board chairman Giles Clarke said on Sunday he would be lobbying for a rule change regarding light, effectively putting the decision back in the hands of the batting side, and Flower feels just as strongly on the subject.
"Where I think the ICC (International Cricket Council) could improve the regulations — and we have spoken with their officials about this for years — is the description that they use when judging bad light. They say they consider if it is dangerous or not. It is often not dangerous, it's a poor description of that particular regulation," he said.