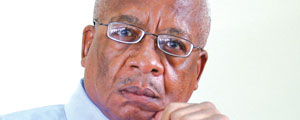 The just-ended harmonised elections have left a lot in their trail — from ecstasy to anger. Report by Conway Tutani
Now we are back to the daily grind, it appears some people were totally unprepared for the emotional upheaval they are experiencing now that the elections are over. Denialism and the blame game has taken over. Indeed, the just-ended polls have been the most contested and stressful since the 1980 polls which ushered in independence. Dubbed "make-or-break", they lived up to that as many political careers have not only been left in tatters, but completely disappeared. Indeed, there were many shocks and surprises, resulting in extreme anger.
"A major election leads to major change — psychologically, that is," writes Dwight Bain, one of America's leading turnaround experts who specialises in success after crisis. No matter who wins an election, the unexpected emotional letdown or explosive reaction after the votes are counted can be devastating to many — particularly those who are "over-involved" and don't factor in the real possibility of loss, which can result in what is called "Post-Election Stress Syndrome (PESS)", observes Bain.
To give but one case of PESS arising from the harmonised polls, wrote one Gugugu Magorira to NewsDay this week: "Given an option, I will continue to vote for Welshman Ncube for the Zimbabwean Presidency, not President Robert Mugabe or Prime Minister Morgan Tsvangirai. I was personally shocked by the stupidity demonstrated by the people of Bulawayo who chose to dump the capable people for shebeen queens and registered crooks."
Reminds me of a friend who always says with a chuckle: "Don't think I am NOT stupid." I digress.
Magorira is taking out his frustration on voters when he doesn't really have an excuse — like a wolf that has been angered and will attack anything. There is a feeling of extreme anger and rage at everyone except you and your crew. Did Magorira also take into consideration that the Bulawayo voters saw the stupidity — as he puts it — of voting otherwise? That they can also extend the same "compliment" of stupidity to him? The attack lacks in reality and substance. Such people wallow in their own self-pity to the point of being an extreme embarrassment to themselves and the cause they profess to support instead of doing something positive and practical about their own situation such as their own failings as candidates. There is more of anger than sense in this. Someone feeling that angry will usually have a lack of judgment and inbred hate.
A lesson or two for wooing voters will do for Magorira and the like-minded. First, the objective is not to win arguments; it is to help others see the benefit to them of supporting you with at least a vote.
Second, don't tell people that their thinking on an issue is flawed or ignorant. Most people do not respond favourably to what they perceive as insults to their intelligence. This lack of respect for the electorate is politically disastrous. People don't like being told they are stupid and — crucially — the person who says it.
Third, an impressive background and experience is not enough to win elections; you have to connect your policies to the people at their level, not on your terms.
So, Magorira, your observation that: "In Kwekwe Urban, I am told that they voted for a Grade 2 dropout for the love of a Zanu PF T-shirt and they are pinning their hopes on that Amaveni backyard resident" shows how out of touch you are. In other words, get off your high horse!
That said, in politics you need professionals prepared to roll up their sleeves, not gentleman amateurs. From MDC-T organising secretary Nelson Chamisa, most of the time all we heard were sound-bites, but hardly any report of organising on the ground; the same with MDC spokesperson Nhlanhla Dube, who was given to biting snippets, but hardly anything else. The MDCs contemptuously underestimated Zanu PF. Don't play with a lion as if you are playing with a domestic cat.
As incumbents, Zanu PF entered into this election with built-in advantages and much more. The State machinery was unleashed, but as we approached the election, Zanu PF rolled out a new policy for a different segment of voters they hoped to attract. Zanu PF's skill in messaging, fundraising, strategic planning, micro-targeting voters, and getting out the vote — along with the big ugly factor of political thuggery — carried the day.
Tsvangirai did his best, but his best was not enough in the face of this monstrous system and also because of his individual lapses. Under the circumstances, he did as well as could be realistically expected. Said Russian author Leo Tolstoy: "It's too easy to criticise a man when he's out of favour, and to make him shoulder the blame for everybody else's mistakes." It was not Tsvangirai's burden alone, but the system, shaken to the core, felt threatened enough to launch its most expensive post-independence campaign because of the formidable challenge he posed. The reluctant and recalcitrant system has become more responsive to the people as a result of this. Let's have fair criticism instead of Magorira's hateful reference to "deadwood and garbage in the MDC-T". Politics ought to be more refined than that.
That said, Magorira's puzzlement that his preferred candidates did not receive the votes which — to him — were so obviously due to them shows he has an inverted view of society. In this fact-based world you need evidence-based notions — not rantings and ravings.
It's one thing to construct a myth that people in Bulawayo and Kwekwe Urban voted the way they did simply because they are stupid and were cheaply bought. It would be another thing if Magorira & Co kept that myth a secret to themselves, but instead they shout it from the rooftops. Isn't that political naivety of the highest order?
Should they then wonder why those stupid people did not vote for them?
ctutani@newsday.co.zw