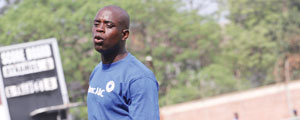 DYNAMOS club secretary Webster Chikengezha yesterday said Tonderai Ndiraya's resignation from the club's technical set-up has nothing to do with a perceived fallout with coach Kallisto Pasuwa.
REPORT BY SPORTS CORRESPONDENT
Chikengezha said Ndiraya's resignation had nothing to do with the letter believed to have been written by Pasuwa recommending that he be reassigned to the juniors because he no longer trusted the former midfielder.
"We met him and he told us the reason for his resignation. He is going to school. I know for sure that he is doing sports management. I don't know where reports of their differences with Pasuwa are coming from. We are also not aware of the letter written by Pasuwa recommending the reassignment of Ndiraya.
We didn't call Pasuwa to the meeting because he is not the one who resigned," said Chikengezha.
Chikengezha said Pasuwa was now working on trying to find a replacement.
But a letter which was leaked to the media written by Pasuwa shows there has been bad blood between the two.
Pasuwa accuses Ndiraya of not appreciating what he did for him after retaining him as one of the assistant coaches although he had been given the power to appoint his own assistants.
Ndiraya was previously assistant to former Dynamos coach Elvis Chiweshe whom he also had a fall out with. Former Dynamos winger Simon Chuma replaced him. With Pasuwa currently committed to the Warriors where he is an assistant, goalkeepers' coach Munyaradzi Diya and team manager Richard Chihoro will be training the team in his absence until he finds a replacement.
Dynamos are currently placed third on the league table with 32 points while Harare City are leading the pack with 37 points. Highlanders are second with 34 points.
Some quarters suggested yesterday that Ndiraya would be replaced at Dynamos by Motor Action number two David George, although no confirmation came from the Dembare chiefs.