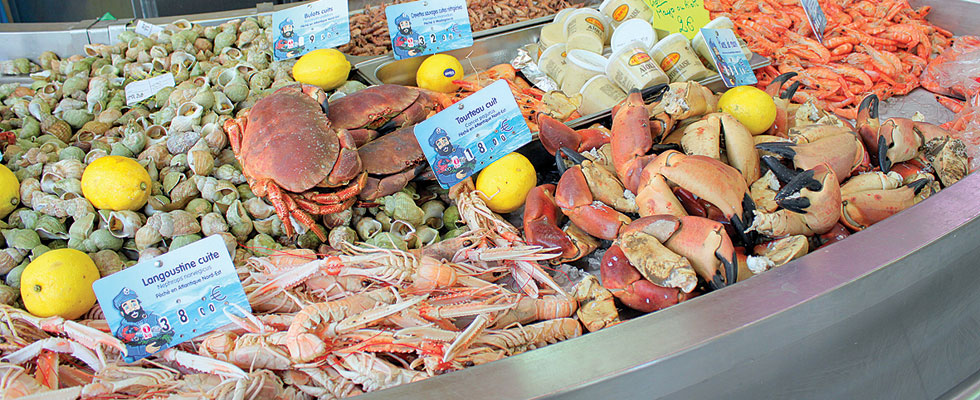 AS it was impossible to successfully book an "all-inclusive" package deal holiday to somewhere where the weather was guaranteed to be pleasant . . . and sea-bathing and snorkelling in blood-temperature warm seas a real pleasure . . . from the UK on my last working holiday, I joyously went with my family to a "gite" (pronounced "zheet") in northern France for a week.
Travel with Dusty Miller
We sailed by DFDS from Dover to Dunkirk, in France but close to the Belgian frontier. It was the first time I'd crossed the English Channel since a hurried recall from Croatia in 1969.
The last time I'd seen Dunkirk was on a school trip in about 1958, when I was 12 or 13. Then, debris from the evacuation (or miracle) of Dunkirk: Operation Dynamo to pluck a third-of-a-million Allied troops off the German-surrounded beaches was still very evident.
Certainly not so now! Dunkirk is a big, thriving, throbbing city, harbour, port and entrepôt serving the European Community and a much wider market. Dunkirk is France's third largest harbour after Le Havre, farther down the Channel and Marseille on the Mediterranean coast.
We had been told that our gite (in this case a splendidly professionally converted former milking parlour) was about an hour's drive south-west of our port of arrival at Capelle-des-Hesdin, which is in the rolling, lush, verdant agricultural area of the Seven Valleys.
The historic commune of Hesdin, itself, was five kilometres away. We visited two of its many restaurants three times and were there for the traditional Thursday morning market. The market square is dominated by an ornate, baroque Hôtel de Ville (town hall), which eagle-eyed travellers notice, apparently incongruously, has the Spanish royal coat-of-arms displayed on its balcony.
Not so incongruous when you realise this part of France —in the Pas-de-Calais, but bordering the neighbouring departments of north Normandy, The Somme and Picardy has been fought over and on since before the 1066 Norman Conquest of Britain until the end of World War II.
And in 1554 Hesdin was part of the Spanish Netherlands and the Spanish Emperor Carlos V decreed the town should be moved in that year about five kilometres from its original site. (Mutare suffered a similar fate 350 years later, forced to move closer to the line of rail to Beira!)
We had generally glorious weather as a miserable northern European summer (possibly the worst, wettest, and greyest since records were kept) turned to autumn.
Two days at Le Touquet-Paris-Plage were especially sun-blessed. We walked much of its seven kilometre long soft, golden beach and the young 'uns splashed in the waves.I was assured the water wasn't as cold as I imagined it would be.
During our visits, Le Touquet was celebrating its centenary as a commune (official town), having been founded in 1912 by an editor of Le Figaro.
It is one of the wealthiest places in France and certainly one of the nicest. Lying on the Cote d'Opale (Opal Coast) in a sheltered, well-forested area, many well-off Parisians own second holiday homes there and many commute the 238km to the capital daily.
Architecture is stunning, especially many of the detached upper-class residences on elevated well-wooded sites, the Edwardian-era casino and spectacular Hotel Westminster, where one of the restaurants has a Michelin star.
We had one beach front al fresco packed meal (a picnic: pique-nick in French!) of crusty French bread (arguably the world's best), salty butter, Brie, Camembert, goats-milk and a wonderful stinky, runny local blue cheese, luscious cured ham, salamis, cherry tomatoes, gherkins and fruit. Everything we ate was grown, picked or fattened and slaughtered within about 25km.
Mussel dishes Our other meal there was at the Enduro Brasserie. Named after an annual challenging endurance race for motor-bikes and quads, it overlooks the channel and specialises in various fruits of the sea.
Three of us plumped for different mussel dishes: enormous quantities of the shellfish (possibly 1,25 kilos each, plus, per portion) which an hour or so earlier were still in the sea.
They were served in the individual pans/steamers they were cooked in at the table, along with the authentic French "frites" which give chips a bad name (and mayonnaise) and more crusty bread or baguettes and fresh crisp salads.
My son-in-law opted for a medium-rare beef steak, which was remarkably good, certainly compared with the tough, sinewy nyama I used to be served in France a generation ago.
With 1,5 litres of "bier presson" (draught beer) for me; three glasses of wine between the youngsters, cool drinks and puddings for the wee 'uns, the bill was just over 70 euros.
We bought excellent local French wines: white, red and rosé at neighbouring supermarkets from 1,8 euros a bottle, drinkable well-known brands of champagne from around nine euros and half-litres of good lager or cider worked out a euro each in case lots.
Englishwoman, Tara Rozier, owns the gite in which we stayed and another next door; two more are under construction by her husband, a New Zealander.
They live on-site and are wonderfully helpful. She baby-sat for us when the three adults had supper in Hesdin.
She also recommended a restaurant, but we'd already discovered it the previous day when sheltering from a brief and unexpected heavy rain storm during market day. La Belle Epoch in Hesdin is named after that heyday of hedonism in France, between about 1890 and the outbreak of World War I in 1914.
Pots of tea for two, a cappuccino and hot drinking chocolate, which came with a wide range of unordered classy petite-fours, set us back around 11 euros as we hurriedly kept dry in luxuriously comfortable surroundings mid-morning.
We were so impressed with the polished deep leather banquettes, standard of cleanliness, aromas of fine cooking and speedy, cheerful, polite service that we had resolved to return, before Tara's referral.
When we did go, set three-course table d'hôtel dinners for my daughter and her husband (again featuring top-of-the-range steak) and my cod cutlets in parsley sauce with sweet baby jacketed new potatoes and a mélange of carrot, swede and turnip followed by a tarte-tartin-upside-down baked apple tartlet with "crème-Anglais (vanilla custard) — to leave home for; with three lagers, two cocktails, two glasses of Chardonnay, a bottle of sparkling mineral water and (of course) wonderful bread, cost 71 euros.
dustym@zimind.co.zw