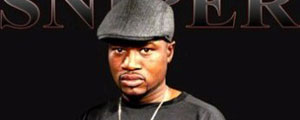 ORGANISERS of the dancehall music fiesta dubbed "Heroes Special", to be held on Saturday at Dzivaresekwa Stadium said preparations for the event were at an advanced stage.
Tawanda Marwizi
The Heroes' Special event will see artistes such as Freeman, Shinsoman, Emmanuel "Guspy Warrior" Manyeruke, Killah T, Sniper, Dadza D, Lady Squanda and Templeman light up the venue with their energetic performances and free-styling skills.
Event co-ordinator Jackie Dzambasa said the gig was meant to commemorate the heroes of the liberation struggle.
"All is now set for the show and we are looking forward to a memorable show since we will be celebrating Heroes' Day. We have decided to have the youth celebrate heroes of the liberation war and it explains why we have decided to rope in youthful artistes," Dzambasa said.
Guspy Warrior, who was recently involved in a car crash, said he would be performing at the event despite the mishap.
The Seunononga songmaker, who has been mesmerising audiences at live shows with his dances, said he was well-prepared for the show. "Despite the accident, we are coming to our fans now and I am promising a sterling performance for my fans. I will give them value for their money and I want to prove that I am the real warrior in the dancehall genre," he said.
Guspy Warrior is riding high with his hit song Seunononga, which has become a national anthem among youths.
Shinso Man — born Romeo Antony — is expected to belt out some of his hit songs such as MaGhetto Yuts, Kukunakidza and Dancehall Fada, among others.
Since he broke into the music limelight in 2009, Shinso Man has never looked back, and is maturing with every show.
In the past, we have seen Zimbabwean dancehall music continue to grow, judging by the number of artistes who have ventured into the genre. Other artistes taking part at the gig include Sniper and Lady Squanda, who has been sending fans into frenzy whenever she takes to the stage.