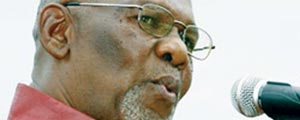 SHADOWY Israeli company Nikuv International Projects, at the centre of a storm in Zimbabwe's July 31 harmonised elections, relishes success in the electoral process in African countries, among them Zimbabwe.
MOSES MATENGA
The Israeli company is being accused by the MDC-T of manipulating the voters' roll in favour of Zanu PF after allegedly being paid $10 million.
On its website, the company notes its successes in Africa in several areas, including using and implementing the most advanced state-of-the-art technologies and engaging in electoral processes.
"NIP acts as an integrator of large Information Technology projects in international markets, focusing on projects for governmental sectors. NIP initiated activities in the African continent in 1994 in Nigeria, and has since expanded its activities to Zimbabwe, Zambia, Ghana, Botswana and Angola," the company says on its website.
In an interview yesterday, former Home Affairs minister Dumiso Dabengwa confirmed that his ministry had hired the company in 1995, but its role was restricted to the issuance of identity cards and passports among others.
Dabengwa said he was surprised to discover that the company was now involved in electoral processes.
"The company was contracted by the Ministry of Home Affairs in 1995-96 to carryout the computerisation of ID cards, birth certificates and passports. It was not involved in electoral processes. If it did, it was certainly after my time, maybe around 2000," Dabengwa said.
"I realise that it is now involved in the electoral processes. It had just been established when we hired it and its profile was confined to that (ID's and passports) and now it has expanded to elections," he said.
Asked if the company could have had a hand in the just-ended harmonised polls which opposition parties claim were rigged, the Zapu leader said: "From their profile, they could have been involved, but I don't know. I can't confirm or deny that."
According to a dossier accompanying a court application lodged with the Constitutional Court (ConCourt) last Friday by outgoing Prime Minister Morgan Tsvangirai challenging President Robert Mugabe's victory, Nikuv received over 50 payments between February 4 and July 30 this year averaging $200 000 each.
"What is also worrying is the involvement of an Israeli firm, Nikuv Projects International, in the development, management and manipulation of the voters' roll," reads part of the dossier. "In a letter dated 12 July 2013, Zec (Zimbabwe Electoral Commission) denied the involvement of Nikuv in the preparation of the voters' roll. However, we have it on record that Nikuv has been operating in Zimbabwe since the 1990s."