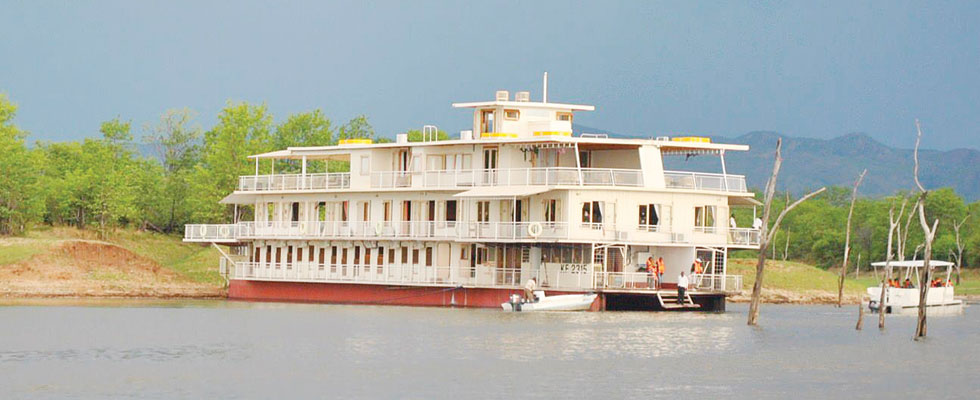 UNITED NATIONS World Tourism Organisation (UNWTO) General Assembly Zimbabwean ambassador for Kariba and the Great Zambezi, Hugo Ribatika, has organised a boat cruise on the Zambezi Trader luxury passenger ship from Kariba to Victoria Falls to expose people to the wonder.
Melissa Mpofu
The move is meant to promote one of the country's seven wonders, the Mythical Kariba and Great Zambezi.
The once-in-a-lifetime cruise will see about 100 people being driven to Kariba from Harare by a luxury coach on August 29 and returning on September 1.
They will depart Kariba for Victoria Falls aboard Zambezi Trader at midday arriving in Victoria Falls on August 30.
Activities have been organised in Victoria Falls, with lunch being served at the Elephant Hills Hotel.
The entourage will then depart from Victoria Falls at sunset for Kariba. While in Kariba, guests will have an opportunity to tour the Kariba Dam wall.
On the boat, guests can do water-based game viewing or bird watching from one of the Zambezi Trader tender boats.
Viewing game from the water is an unforgettable experience and one can unwind in comfortable surroundings, while watching animals drinking from the lake or grazing by the shore line.
The boat also provides other recreational options such as darts, board games, deck courts, swing ball on its C deck.
Guests can also do other activities such as fishing and swimming. Local DJs will also be on the Zambezi Trader B deck bar entertaining guests.
The top quality DJs will have a wide variety of music to suite different tastes and to ensure the best party ever in an awesome atmosphere.
Ribatika said he was excited about being a UNWTO ambassador as it had always been his dream to represent the country.
"I want to create awareness and disseminate information on the wonders that we have been tasked with, the Mythical Kariba and the Great Zambezi. Whilst many of Zimbabwe's wonders are natural, there is every reason to celebrate the man-made Kariba Dam which is just about the largest formation of its kind in the world," he said.
The UNWTO General Assembly will be co-hosted by Zimbabwe and Zambia in Victoria Falls and Livingstone respectively from August 24 to 29. Forty-five brand ambassadors were selected to showcase what Zimbabwe had to offer ahead of the general assembly.
Some of the ambassadors include Oliver Mtukudzi, Shingi Munyeza, Ozias Bvute, Douglas Mboweni, Peter Ndlovu and Tawanda Nyambirai.
"My primary objective as a UNWTO ambassador is to make Zimbabweans aware of the many benefits that will accrue to Zimbabwe from tourism particularly its socio-economic contribution to Zimbabwe," Ribatika said.
"I have, therefore, organised the boat cruise to expose people to Kariba by showing them what the place has to offer. A lot of people travel out of the country for holidays yet one can have a better holiday in Kariba."
Ribatika added that the boat cruise was initially meant to be held this weekend, but had since been moved to the end of the month because Zambezi Trader officials said they could make the boat available all the way to Victoria Falls instead of just Kariba.