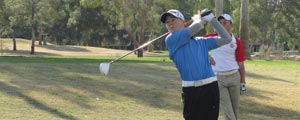 US-BASED Zimbabwean young golfer Sean Crocker missed out on the SCGA Match Play glory after falling to top-seed Niall Platt in the Wednesday final played at Annandale Golf Course in California.
REPORT BY HENRY MHARA
This was Crocker's second disappointment in a space of a month after he narrowly missed out on a place in the quarterfinals of the US Junior Amateur Championships three weeks ago.
In Wednesday's final, it was always going to be difficult for the 16-year old – the youngest player at the tournament – as he was up against the defending champion.
However, Crocker, seeded 10th in this tournament, fought bravely and although he never led in the match, he was even on hole 9, 11 and 14.
However, his more experienced opponent responded with birdies on the next three holes. Platt would eventually win two of the final holes to prevail 2-0 to reclaim his title.
In the semi-finals, Crocker defeated one of the pre-tournament favourites Johnny MacArthur 2 and 1.
Despite the recent disappointments, Crocker remains the best possible candidate to represent Zimbabwe at next year's World Amateur Team Championship in Japan. He also remains the brightest prospect for the country to qualify for the Olympics in 2016 when golf returns at the games.