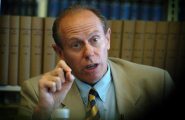 EDUCATION minister David Coltart yesterday conceded defeat in the battle for the Bulawayo East constituency House of Assembly seat, but cited irregularities in the entire harmonised elections that took place on Wednesday.
REPORT BY STAFF REPORTER
Coltart, who lost to MDC-T candidate Thabitha Khumalo by 19 votes, congratulated her, but pointed out that the whole poll was "suspicious".
He did not disclose the votes Khumalo polled against him.
"Whilst I obviously congratulate her and wish her well and stress that my comments are not directed against her, the entire election was fraught with serious irregularities," Coltart said. "In my view, the entire election is illegal — for example, I have still not received a copy of the electronic voters' roll which I was entitled to and which was a key mechanism to counter rigging."
Coltart said on the eve of the election, he had written a letter to the head of the Sadc observer team in Bulawayo detailing six serious breaches of the electoral law and Constitution.
"On Wednesday, I became increasingly suspicious of what was going on in the seven polling stations which had been sited by Zec (Zimbabwe Electoral Commission) within a two-kilometre radius of Brady Barracks. The results coming out of seven out of 40 polling stations in the constituency bear little relation to voting patterns in them and the areas they cover in the last decade," he said.
He said President Robert Mugabe's confidence during his Press conference on the eve of elections was also suspicious, especially after his main opponent Prime Minister Morgan Tsvangirai had the day before held one of the biggest rallies ever in Harare.
"I was astounded to read in The Herald yesterday (Wednesday) that Zanu PF was looking at obtaining a two-thirds majority in Parliament, which defied all reasonable projections. It is now clear why there was this confidence. Zimbabwe has been subjected to electoral fraud on a massive scale," Coltart said.