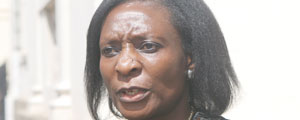 DESPITE the relative calm across the country, voting in Matabeleland was characterised by chaos and confusion, as ballot papers ran out in some areas, while some election agents were barred from polling centres.
Report by Staff Reporters
In Gwanda, voting had to be suspended in wards 3 and 5 after ballot papers for the council candidates ran out. Initially, the Zimbabwe Electoral Commission (Zec) allowed voting to proceed without the council elections. However, this was soon stopped.
Zec Matabeleland South chief elections officer Jotham Nyathi said last night they were waiting for a helicopter to arrive from Harare with the ballots.
"A helicopter has been dispatched from Harare and it will refuel in Bulawayo before proceeding to Gwanda. We expect it to arrive around 7pm and voting will resume thereafter," he said.
Nyathi said voters would be compensated for the hours lost, meaning voting in the two wards might have close at around 3am today. Chaos marred the election in most parts of the country as thousands of people were turned away from the polling stations for various reasons.
The MDC-T has also raised concern that there was a record number of assisted voters.
In Insiza North and South, 202 and 450 people were turned away, respectively. In the two constituencies, 209 people were assisted to vote. In Lupane, 323 people were turned away, while 564 were assisted in voting.
A total of 415 people had been turned away at various polling stations in Gwanda by midday for not being on the voters' roll, turning up at the wrong ward and using defaced identity cards, while others were still regarded as "aliens".
Meanwhile, police spokesperson Assistant Commissioner Charity Charamba described the voting day as peaceful, saying they hoped this would prevail in the post-election period. She said a number of people had been arrested, with one MDC-T official taken in for allegedly stealing the voters' roll in Budiriro, Harare.
Zec chairperson Justice Rita Makarau told journalists that they were investigating a high number of assisted voters especially in rural areas. l See another story on Page 4