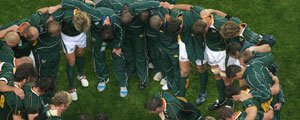 JOHANNESURG — If the Springboks wonder where they will be tested next week, the answer is surely to come in the scrums.
Supersport
The International Rugby Board's decision to change the scrum set laws again will come under scrutiny as South African props have to come to terms pretty quickly with the new regulations at international level, with players not yet being able to trial them at local level.
The Boks will face particular scrutiny from the Argentinean scrum, known as one of the most powerful in world rugby and one which has had a month of raw practice sessions at the High Performance Centre in Pensacola, Florida, in the US.
Contrast that with Heyneke Meyer's team, who had their first scrumming session on Thursday, but were unable to hold a full session thanks to niggles and injuries. Tendai Mtawarira has sat out of most practice sessions this week with a hamstring problem.
Coenie Oosthuizen has also missed sessions because of flu while main tighthead Jannie du Plessis has a light calf strain. Add to this the fact that Gurthro Steenkamp is one of the overseas contingent that only arrives on Monday and it is clear to see how Meyer can be worried about the set-pieces.
According to a Twitter photo put out by SA Rugby on Thursday of the scrumming session, Du Plessis did take part in the scrum session, with Trevor Nyakane as his loosehead prop in scrum, but it was hardly the sort of engagement that Meyer would have been looking for. Argentina will arrive on Monday after playing a warm-up game against the touring New South Wales Waratahs on Friday, and will be better prepared than ever before to launch an onslaught on the Boks at FNB Stadium next week.
In contrast, the Bok training has been fruitful, but still disjointed with a number of regulars still overseas.
Now the scrum conundrum hasn't helped either, and while the Boks will have at least one more session next week before the test, it is hardly the preparation they would have liked. The Bok medical staff believe that all their props will be fit and raring to go by next week, but that hasn't helped much this week.
And if you think that since Meyer has taken over, the Boks have had to contend with three different scrum versions, you can see how ludicrous it has become at times. Adaptation is the key word here, and the Boks will need to do it quickly.
Its understandable then that Bok tighthead Du Plessis believes it is a huge challenge for the Boks, as they simply don't know what to expect when they face Argentina next week.
"Normally with the ELVs we had a few games. In 2008 they changed the penalty laws, where a scrum infringement became a short-arm penalty. So at least you had a certain amount of time to get to grips with it.
Now, the last game we played at international level was with the old rules and all of a sudden you have to adapt again to new rules," Du Plessis said.