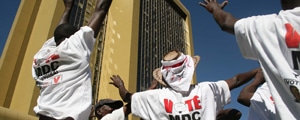 GWERU — Former Midlands Governor and Zanu PF politiburo member Cephas Msipa has challenged the MDC parties to attend national events in their party regalia, saying no one will victimise them.
Stephen Chadenga
Msipa was responding to inquiries from our Bulawayo Bureau why Zanu PF members had attended Heroes Day celebrations in their party regalia at the provincial shrine in Gweru on Monday if it was not a party event, amid complaints from MDCs members that they felt intimidated.
He said events such as the heroes' commemorations were meant for all Zimbabweans regardless of political affiliation and that if the MDCs had gone to the provincial acre wearing party attire and were intimidated, he was going to be the first to defend them.
"It is unfortunate that they (MDCs) have chosen to boycott the event," Msipa said.
"This is a national event and everyone is free to come and honour those who sacrificed their lives for the political emancipation of this country.
"Our (Zanu PF) youths are in a jovial mood and you cannot stop them from wearing the party regalia on such a day."
The former governor claimed that MDC supporters would not have had a problem if they had attended the function, despite simmering tensions following last month's polls, which Zanu PF won, but the MDCs allege massive fraud.
"These are national events and not party ones and if their supporters were going to be intimidated here, I was going to be the first to defend them," he said.
Msipa said by boycotting national events, the MDCs were isolating themselves when they should be part of the celebrations.
The MDC formations led by outgoing Prime Minister Morgan Tsvangirai and Welshman Ncube on Monday did not attend Heroes' Day commemorations held across the country.
In the past, they have accused Zanu PF of turning national events into party events.