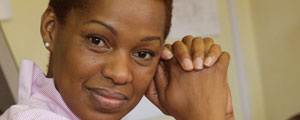 A number of years ago, during the years of hyperinflation, someone told me of a study that had been done by some international authority which claimed that 40% of Zimbabwe's population suffered from some form of mental illness. Report by Thembe Khumalo
I have no way of knowing if this was a factual story and when I researched its source, I found very sparse evidence in the form of an article about Members of Parliament reacting angrily to an announcement made in 2009.
Professor Johnathan Moyo was quoted as having said: "Otherwise you don't need a rocket scientist to realise that the intended subtext of the bizarre claim is that there will be no reform led by Zimbabweans ostensibly because nearly half of them have left the country and 40% of those remaining have gone mad, while their country is steadily becoming a total mental asylum." (newzimbabwe.com)
His sharp remarks might have made one giggle, but the fact of the matter is that many times mental illness goes undetected, and it is possible that large numbers of people who suffer form such illnesses fail to get the help they need.
Mental illnesses encompass a wide range of disorders, including, but not limited to, anxiety disorders, psychotic disorders and mood disorders such as depression.
Depression is more than just a feeling of sadness brought on by the results of a national election, or a birthday that no one remembered, or the dismal performance of one's football team.
It's more than the feeling of wanting to run away from one's own life that can overcome the mother of small and unrelenting children.
Depression is a prolonged and severe feeling of hopelessness, despair or dejection.
It can be accompanied by a lack of interest in things one usually enjoys or a lack of energy to pursue ordinarily enjoyable activities.
When feelings of emptiness and despondency take root, it can become difficult to conduct oneself in the home or workplace.
It can feel like one is in a deep pit from which there is no escape or remedy, and when it is very severe, can lead to suicide or self-harm.
But depression is, in fact, a curable condition, and though its symptoms vary from person to person, it can be recognised and dealt with before permanent damage is done.
While drugs are one way of coping with depression, positive lifestyle changes can be implemented to counter the condition.
Because loneliness is one of the factors that most often leads to depression, developing a stronger network or support system is a very effective way of finding a path out of the dark pit that depression often feels like.
This addresses feelings of isolation and provides opportunities for new interests and contacts.
Many people lack the emotional skills to deal with feelings of inadequacy, loss, or despair.
Learning how to recognise and communicate these feelings in a productive and positive way can help counter depression.
If you have ever enjoyed the feeling of zingy endorphins coursing through your body after a game of soccer or a session at the gym, you will understand why exercise and healthy eating is one of the best remedies for depression.
Exercising gives you a lift, while eating properly helps you avoid the cravings and pangs that come with inadequate or inappropriate eating habits.
If you are in a position to help someone who is dealing with depression, don't underestimate your role, as it can mean the difference between life and death. Some of the ways in which you can help are:
Learning: Many people don't understand depression, so the more you know the better you will be able to support them
Listening: Bearing in mind that depression can make one less keen to communication, it is important nonetheless for the person suffering from depression to know that you are available to listen without judgment or moralising when they do talk Support with chores: When you are depressed, even small things, like feeding pets, can be daunting. Step in to help and lighten the load.
Being serious about suicide: When a person starts talking about killing or hurting themselves, you have to take them seriously, and take some definitive actionGet professional help: Sometimes you just have to admit that you don't know what to do in order to get the help that you need to help a loved one. So, even if Zimbabwe did have a population in which 40% suffer from mental health, we would at least be in a position to address the problem once the 60% who are well have equipped themselves to help.
Pathways out of anywhere (including poverty) are more than possible when you have the will and the skill.