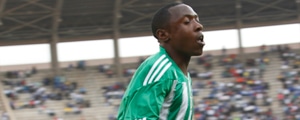 HARDLIFE Zvirekwi returned to training yesterday as the Warriors stepped up their preparations for tomorrow's Cosafa Castle Cup football final against Zambia.
REPORT BY WELLINGTON TONI IN KITWE, ZAMBIA
Zvirekwi missed the 2-1 win over Lesotho on Wednesday and his absence was felt heavily as replacement Prosper Matizanadzo was nervous throughout the match.
The Warriors rested yesterday morning and spent 67 minutes with under priviledged children at the Street Children Foundation as part of worldwide celebrations to mark former South African president Nelson Mandela's birthday.
The national team was back in serious business at the Arthur Davis Stadium yesterday afternoon, although the session was delayed by about 15 minutes after local Premiership side Power Dynamos were still conducting their session.
Power Dynamos coach Tennant Chilumba, formerly of Hwange and FC Platinum in Zimbabwe, ordered his charges off the pitch to accommodate Zimbabwe.
With Zvirekwi back in training and ready for tomorrow, coach Klaus Dieter Pagels opted to rest Ocean Mushure and Nicholas Alifandika.
"We will go into the match as underdogs, but we cannot give up. We will go in there and fight and hopefully, we will be successful," Pagels said after the training session.
Playing at a full capacity Levy Mwanawasa Stadium will not affect the Warriors, according to the coach.
"Most of these players are used to this, playing at Rufaro in front of big crowds and if they want to play international football they have to be ready for such environments," the German coach said.
The Warriors will train at the match venue this afternoon as they wind up their preparations for the final. The final will be preceded by the third place play off between South Africa and Lesotho at 1300hrs.