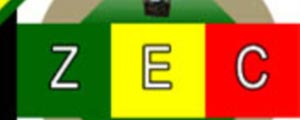 THE Zimbabwe Electoral Commission (Zec) has threatened to clamp down on politicians and media houses accused of fomenting hate speech in the run-up to the July 31 polls.
REPORT BY SENIOR REPORTERS
In a statement last Friday, the electoral body said it had received several complaints and would make individual follow ups on each complaint with a view to charging offenders.
"The Zimbabwe Electoral Commission has received various complaints from across the political divide on use of inflammatory language and hate speech by political players and in media reports," Zec said.
"The commission is following up on each and every one of the complaints received to date. The commission will respond to each complaint in due course."
Zec implored political parties and the media to avoid hate speech and adhere to the Code of Conduct signed by all parties during the nomination process.
"The media are also reminded of the provisions of the Electoral Act, particularly Section 160J which compels them to treat all political parties and candidates equitably and to avoid inflammatory language," Zec added.
A recent study by the Media Monitoring Project Zimbabwe (MMPZ) showed that hate speech was still rampant mostly in the State media.
Part of the MMPZ report said: "The Herald recorded most counts of messages of hatred and intolerance 12 (46%) followed by the Daily News with seven (27%). The Standard and NewsDay recorded three (12%) apiece while The Sunday Mail recorded one case."
"Those most targeted by these disparaging remarks were Prime Minister Morgan Tsvangirai and his MDC, who were portrayed as sellouts, Western puppets, unprincipled and advocates of Western imperialists."
Meanwhile, Media Institute of Southern Africa Zimbabwe chapter director Nhlanhla Ngwenya accused the electronic media of spreading hate speech through use of advertisements that portrayed Tsvangirai as a sexual pervert.
"Profiling of Zanu PF MPs only by State media creates an impression that only Zanu PF candidates should get into office. While private media has given more space to candidates opposed to Zanu PF, when it comes to coverage of political rallies they have reported on the three main political parties," Ngwenya said.
Voluntary Media Council of Zimbabwe executive director Takura Zhangazha urged the public media to give equal coverage to all political parties.