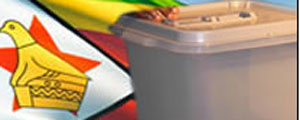 THE Zimbabwe Electoral Commission (Zec) and Registrar-General Tobaiwa Mudede yesterday failed to explain why an electronic voters' roll has not been availed to political parties.
VENERANDA LANGA/ JOHN NYASHANU
There are growing concerns that tomorrow's elections could be disputed because of several electoral flaws, such as the unavailability of the voters' roll and apparent lack of preparedness on the part of Zec, which analysts fear may breed poll chaos.
The MDC parties have raised allegations of breach of electoral laws by Zec and claimed there were several plans put in place by Zanu PF with the alleged connivance of some elements in Zec to rig the elections.
Yesterday, MDC-T leader Morgan Tsvangirai said the voters' roll had not yet been availed to him and also that names of presiding officers had not been released. He said printing of ballot papers was also shrouded in secrecy.
"Our lawyers are in the process of making an application to the Constitutional Court over the issue of the voters' roll," MDC-T secretary-general Tendai Biti said at a Press conference yesterday.
"With virtually a day to go to the election, no political party in Zimbabwe, other than Zanu PF perhaps, has got a copy of the voters' roll. After Zec finished the registration process and the voters' roll was collected, updated and finalised, it was supposed to be given to political parties to audit," he said.
Biti added that Zec was now powerless and the electoral process was being run from Mudede's office.
"Actually Zec, the mother body of elections, does not have a copy of the voters' roll. They kept referring us to a Mr Nhidza at the Registrar-General's Office. What time do we have for adequate voter inspection?"
Asked why it was difficult for Zec and RG's Office to dispatch the voters' roll, Zec commissioner Bessie Fadzai Nhandara told journalists that the question should be directed to Mudede.
Although Mudede was present at the Press conference, Nhandara said he could not respond since it was a Zec Press conference. She suggested Mudede would address the issue at a different venue. The Press conference was attended by foreign and local journalists, election observers and diplomats.
Journalists pleaded with Zec to allow Mudede to take questions, but when he went to the podium he gave a technical excuse to avoid answering the question.
"This is a Zec meeting and I have been busy running around on issues to do with the voters' roll," Mudede said.
"I thought I would have time to address our visitors, but we have managed to address Sadc. But I am sure the question of the electronic voters' roll has been sufficiently answered by the Zec chairperson."
Zec chairperson Justice Rita Makarau said they were 99% prepared for the elections with enough copies of the voters' rolls and indelible ink and ballot papers dispatched to all provinces.
"Hard copies of voters' rolls can now be obtained by candidates from the RG's Office, but due to logistical problems, I am informed the Registrar of Voters may not be in a position to issue out electronic copies, but hard copies are available," Makarau said.
She would not clearly explain how hard copies of the voters' roll could be reproduced easier than electronic ones.
She referred the issue to Mudede, who also would not give a clear answer to a query raised by diplomats and journalists on this matter.
The Zec boss said political party campaigns should stop by 6:59am today and promised that copies of voters' rolls would be at all constituencies for inspection.
Makarau said counting of all votes would be done at polling station level, but the announcement of the results would be done differently. Local council results would be posted at the wards, while House of Assembly results would be announced at constituencies and proportional representation seats for senators would be done at provincial level. The 60 seats for women would also be announced at the provincial centres.
Presidential election results, she said, would be announced solely by Zec at the national command centre.
She said it would be criminal for anyone to seek to usurp this role. Makarau said Fidelity Printers and Printflow Printers were the official printers of all ballot papers.
"During the printing process, it emerged that Printflow had capacity challenges relating to numbering and at that stage we looked for additional capacity elsewhere and Police Printers were contracted to number the ballot paper. After the ballot paper had been numbered, it was taken back for printing and binding," she said.
She said an additional 45 polling stations had been added, bringing the total number of polling stations to 9 735.
The number of polling officers, at 10 for each polling station, would, therefore, come to 97 350.
"The first results will be three or four hours after closing of polls. Polling stations will take the results to ward collation centres which will announce the winning local authority candidates," Makarau said.