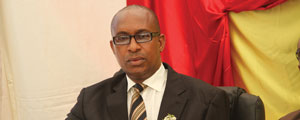 THIS is the time that the toiling and suppressed masses of Zimbabwe have been waiting for. This is their moment. This is their date with destiny. Indeed, this is it!
Report by Obert Gutu
Tomorrow will forever be marked in the annals of history as the date on which the people of this great nation called Zimbabwe finally extricated themselves from a very painful 33 years of Zanu PF hegemony, cronyism, decadence, corruption and greed.
The people of Zimbabwe cannot wait to show the little dictator and his cronies the ultimate red card. They are fed up with a continuous and monotonous diet of lies and deceit. A concoction of hate, malice, thievery and patronage! It is game over for the moribund dictatorship as the people of Zimbabwe cross over from the house of slavery and bondage into a life of plenty and happiness under the stewardship of a brand new, people-loving government headed by the people's choice, Morgan Tsvangirai.
The people will wave goodbye to 33 years of penury, servitude, suffering and trepidation. Never again will the people of Zimbabwe allow any political party to subjugate them to a life of misery and human-induced poverty, hunger and disease. Robert Mugabe and his Zanu PF have, over the past 33 years, reduced what was once the jewel of Africa into a hopeless and desperate basket case. From being the second biggest economy in Southern Africa at independence in April 1980, Mugabe and his corrupt legion have ransacked and looted the country into becoming a small, impoverished economy which now ranks lower than the economies of little Lesotho and Swaziland. This is the hallmark of Mugabeism. It has been a rollercoaster of kleptocracy and obscurantism; a cocktail of disastrous and toxic economic policies such as the notorious Economic Structural Adjustment Programme (ESAP) of the early nineties to the lunatic and self-serving Stanilist exhibition styled as so-called indigenisation and empowerment.
Morgan Tsvangirai and the MDC that he leads have brought a breath of fresh air to matters of public administration and governance. The MDC-T's entry into a coalition government in February 2009 led to a structural recovery of the economy and the restoration of Zimbabwe's international dignity. Immediately after being sworn in as Zimbabwe's new President in the next few days, Tsvangirai and his new people-centred and people-loving government will consolidate the recovery that they initiated and they will also provide a firm foundation for macro-economic stabilisation and growth. Tsvangirai and the MDC that he leads are easily poised to resoundingly win the watershed harmonised elections. The reasons are very simple, the main one being the catchy and hugely popular JUICE programme.
The MDC-T's JUICE (jobs, upliftment, investment capital and the environment) is the party's framework to create jobs and build a strong, growing economy that is financially and environmentally sustainable, where growth is evenly shared across the country and not just by a privileged few as has been the case under 33 years of Zanu PF hegemony. Eight out of every 10 people are unemployed and hence, any new progressive government in Zimbabwe should focus on job creation as the lynchpin and anchor of its economic tapestry. There is a crying need for Zimbabwe to be transformed into a democratic developmental nation state as well as to create sustainable jobs and to develop small and medium enterprises.
Currently, 80% of the 14 million people of Zimbabwe are classified as living in abject poverty; thanks to Mugabe and his moribund and faction-riddled Zanu PF party. The majority of the people are living on less than $2 per day; hence Zimbabwe is presently classified as one of the world's poorest countries. We do not deserve to be poor when we are so rich in minerals and human resources.
Zimbabwe has got virtually every valuable mineral known to mankind: from diamonds, to gold, to copper, to platinum. But why is it that in spite of and despite all these abundant natural resources, 80% of our people live on less than $2 per day? Zanu PF has promised to rob Paul in order to pay Peter and they seek to sanitise this act of thievery under the misguided and utterly discredited so-called indigenisation and empowerment programme.
Have we forgotten that under Zanu PF's misgovernance, the rate of inflation had shot to more than 500 million percent? Have we already forgotten those sad and weary days of the worthless bearer cheques? Have we already forgotten of those macabre days when millions of our people were subjected to the humiliation of travelling to South Africa, Zambia, Botswana and Mozambique to buy basic commodities such as mealie-meal, salt, cooking oil and sugar? Do we really want to return to those days of slavery? A vote for Mugabe and his faction-riddled moribund Zanu PF party will inevitably mean the return of suffering and unprecedented poverty for the majority of the people. What is it that Mugabe, at the advanced age of 90, can now seek to rectify and do that he has failed to do in the past 33 years? Tomorrow, the people of Zimbabwe will no doubt free themselves from bondage. They will punish the moribund and corrupt dictatorship in the ballot box. Indeed, they will resoundingly give a seal of approval to Tsvangirai and the MDC-T that he leads. The people of Zimbabwe have decided to move to MORE!
Obert Gutu is the MDC-T Harare provincial spokesperson and a member of the national multi-party liaison committee formed by the Zimbabwe Electoral Commission. He is also the Harare Province chief election agent for the MDC-T presidential candidate, Morgan Tsvangirai.